Disclosure: This is a sponsored post in which I will be compensated by the vendor, Kazaz! Kids, in exchange for an honest and thorough review of their app. All views shared are mine and mine.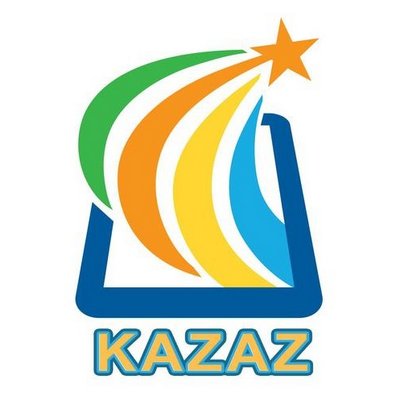 featuring a world of interactive, animated original stories.
"With Kazaz!, kids don't just read a story, they experience it!"
With the holidays fast approaching and families planning long car rides to visit family or have family and friends over to stay, you may also be looking for both fun and educational ways to keep the kids busy. My girls love bringing their iPads in the car and playing with their apps, when we go visiting the grandparents. I find that the storybook apps keep them entertained the most, without having to hear them ask for help with a game or puzzle. And, when the girls are sick, which has been a lot recently, and they find themselves laid up on the couch, iPad time seems to distract them from feeling crummy. They love snuggling up next to me, and showing me their favorite apps, and how they work -- even though I already know as I review them all before I let them play with them.
Recently, the girls have been laid up with hand, foot and mouth, as well as a head cold which seemed to linger for over a month. The girls spent most of their time laying around, trying to feel better and get their energy back. Thankfully, I was able to share a fun new app with called Kazaz! which helped to cheer them up, especially when they had fevers and belly aches.
Have you heard about this new app? This new app, which released recently and is available for purchase in the iTunes store for iPads, is perfect for children ages 3-8 yrs. old, who like my girls, love storybook apps.
Here is a quick video to give you glimpse into this fun new app for kids, that is a must download...
I especially love how this app can be enjoyed by even the youngest of children, who may not be reading yet. The app is designed for children to enjoy alone or collectively with parents, grandparents, siblings and friends. I have been enjoying this app with the girls, as they love to cuddle up next to me and enjoy each of the stories we have downloaded for this new app, and watch them come alive.
"Kazaz! is an exciting new app featuring a world of interactive, animated original stories that will challenge and ignite a child's curiosity. Ideal for children ages 3 to 8, the digital stories combine sight, sound and touch to help maximize even the youngest child's learning experience."
And, with the interactive touch and sound features, my girls can't help but giggle and smile when they make certain objects and characters come alive, as we read through the story.
"Kazaz! encourages children not only to read, but to immerse themselves in learning by clicking on gems hidden throughout the app which reveal fun facts with additional information related to the story topic, potentially expanding a 10-minute read into a highly engaging learning experience that lasts for an hour or more!"
Another great feature of this new app for kids is that you have more than one child who uses your iPad and this app, you can create up to three reader profiles. This enables each child to maintain his/her own set of gems and have their own uniquely tailored experiences. With two little ones who are still working on sharing, and don't like when the others advances on game levels or changes up their app settings, this profile feature is much needed, and helps keep the peace. :-)
In addition to adding new storybooks to this app, children can also experience imaginative play with real-life 3D figures based on Kazaz! characters. Families can order print-on-demand collectibles through the Kazaz! Kids web site for an additional fee. Later this fall, families will be able to print a free gift, along with other items at home using their own 3D printers.
Kazaz! is also extending the story experience with activities and information available on the
Kazaz! Kids website
and via
Kazaz! Post
, the planet's exclusive newspaper. I love when games and apps branch out and redirect kids to kid-friendly websites for continued play. The girls have been engrossed with the three storybooks I have downloaded for the new Kazaz!, so we haven't had enough time to really play around and explore the Kazaz! Kids website, but will be soon.
Do you own an Apple TV? If so, and your kids enjoy the Kazaz! app, then you will want to keep an eye out as the Kazaz! app will soon be available to be downloaded and enjoyed on the big screen, where the experience may be amplified with additional sights and sounds. Also coming soon, video versions of the stories will appear on the
Kazaz! Kids YouTube Channel
.
Wow, so much fun stuff in store from Kazaz! and the American Story Channel. I am so happy to have stumbled across this app and have been enjoying the three FREE downloadable stories, which are available through today, October 26th -- so, don't delay in downloading the app and these free stories, soon after you read my post. :-)
o The Magic of Kazaz: Reveals the history of how Kazaz! became a magical planet. This story will always be free.
o I Am the Music Man: Sing along with the Music Man in this hand-clapping, toe-tapping rendition of a classic children's melody. Free with the Kazaz! app download through October 26th, $1.99 thereafter.
o The Story of Wooding: The tale of an adventurous young swan who sets off on an exciting journey, free with the Kazaz! app download through October 26th, $2.99 thereafter.
It is hard to say which of the above three stories my girls loved the most, as they have been playing with each about the same. I personally am a fan of the
I Am the Music Man, which has a catchy tune and will have you clapping your hands and tapping your feet to the song, and even singing it long after you put the iPad away. :-) I wonder which of the three Kazaz! stories will be your child's favorite?
Make sure you follow Kazaz! on their social media channels, so you stay in the know on all the exciting plans including additional stories, more sophisticated gamification experiences, availability in 11 languages, 3D figures in real gold and silver, and a children's animated TV series, among other exciting developments.
-- Follow Kazaz! Kids on Facebook and Twitter --
Twitter Account: https://twitter.com/KazazKids
Disclosure: This is a sponsored post in which I will be compensated by the vendor, Kazaz! Kids, in exchange for an honest and thorough review of their app. All views shared are mine and mine.