Disclosure: I

received

this

product

for

free

from

the

sponsor

of

the

Moms

Meet program,

May

Media

Group

LLC,

who

received

it

directly

from

the

manufacturer.

As

a
Moms

Meet Ambassador, I was able to try out these products and share a personal and honest review of the Ology brand line. All views shared are mine and mine alone.
Back in 2012, Walgreens introduced a new Eco-friendly line of products called "Ology". Not only are they products free of harmful chemicals, but they are also very affordable, which is usually not the case when opting for greener personal care and cleaning products for your family and home.
Luckily, I have a Walgreens a couple exits down from my house, so whenever I find myself running low on Ology products, I can hop in the car and pick up some more.
Why should you choose products free of chemicals? While this may seem like a no-brainer, many people are surprised to find that studies have revealed that young children exposed to chemicals in cleaning and personal care products have a higher risk of developing children's diseases and behavioral disorders, including asthma, autism and even cancer. For me, being a 5 year cancer survivor of a rare form of cancer, I no longer take chances with my and my family's health. Before coming home after spending six months at my family's home, which was closer to Dana Farber for my daily cancer treatments, I made a point to have my husband throw out all the cleaning products that weren't Eco-friendly or free of harmful chemicals. I had not thought about personal care products, until I came home and started to read the ingredients on the bottles. The products with harmful chemicals were quickly thrown out, and I began my search for healthier products.
After trial and error of greener products, I was finally happy to see Walgreens launch the "Ology" line and include products for baby, personal care and household products including detergents (liquid and fabric softener), cleaners (glass and all-purpose), compact fluorescent light bulbs, paper products (paper towels, bath towels, napkins and even copy paper), as well as baby lotion and 2-in-1 body wash and adult shampoo and conditioner...just to name a few.
"Ology

products

are

made

using

plant-based

and

mineral-based

raw

materials.

And, e

very

Ology

bottle

is

made

from

100%

post-consumer

materials. If that wasn't enough to get you excited about this healthier brand, you will be happy to learn that all Ology products are

never

tested

on

animals

and

do

not

contain

any

animal

byproducts."
All Ology

products are FREE OF the following HARMFUL CHEMICALS:
Ammonia

Chlorine

b

leach
DEA

(diethanolamine)
TEA

(triethanolamine)

Parabens

Phthalates

F

ormaldehyde
Nonylphenol

ethoxylates

Triclosan

SLS/SLES.
The
Ology

brand

is

also
endorsed

by

Healthy

Child

Healthy

World,

a

national leading

independent

nonprofit
organization,
dedicated
to
the
protection
of
children
from
harmful
chemicals
Just knowing that the Ology products I have in my home are chemical free really brings relief when thinking about what harmful chemicals I may be exposing my family to. With Ology products available at Walgreens, I can breath easier knowing this, while also seeing a savings as I don't have to pay top $$$ to get chemical free products.
As a Moms Meet Ambassador I was recently given the opportunity to host an in-home party showing off and raving about the Ology brand line from Walgreens, as well as share a personal review of the products.
I was sent Ology 2x Laundry Liquid Detergent in their free and clear scent, as well as the all-in-one cleaner and 2-pack of Ology Paper Towels.
Ology
2x Laundry Liquid Detergent
•

Ology

2x Laundry Liquid Detergent is gentle on clothes and your skin,while still

fighting

tough

stains.

It

works

in

both

HE

and

regular

machines

and

is

formulated

to
thoroughly

clean

all

types

of

loads

(regular,

delicates,

and

woolens).
•

Ology

2x

Laundry

Liquid

Detergent

is

available

in

a

free

a

nd

clear

scent,

as

well

as

a

spring

lavender

vanilla

scent,

both

of

which

are

derived

using

only

natural

ingredients—nothing

artificial.
The

retail

price

for

Ology

liquid

detergent

is

$6.79 a bottle.
My Thoughts:
Having been using these products since 2012, my family is no stranger to how well these chemical-free products work. I for one, can't get over how well the 2x liquid laundry detergent works at getting my kids' clothes clean. From fun out in the mud to accidental snack spills and juice cup leaks, these ah-oh incidents are no match for the tough cleaning power of this liquid detergent. With two girls and myself who have sensitive skin and need to steer clear from perfumes and other skin irritants, I don't have to worry about this laundry detergent irritating our skins, as it is gentle enough on both clothes and skin, while working hard to get tough stains out, and leaving clothes looking like new.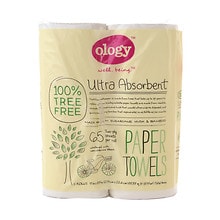 100%

tree-free

and

whitened

with

H2O2 (a

non-chlorine

based

bleach)
•

Ology

Paper

Towels

are made

from

made

from

readily

renewable

sugar

cane

husk

and

quick-growing

bamboo

that

regenerates

in

as

little

as

six

months.
•

These

paper

towels

are

ultra

absorbent

and

biodegradable.
•

There

are

65

two-ply

sheets

per

roll

of

paper

towels

and

each

sheet

i

s

11

inches

by

8.9

inches.

Available

in

packs

of

two.
•

Ology

Paper

Towel

2

-

pack

retails

for

$3.99.
My Thoughts:
I LOVE LOVE LOVE these paper towels. Always having to reach for a roll to pick up spills from the girls,or unexpected indoor pet accidents, I can rely on Ology Paper Towels to get the job done and clean up the mess, without falling apart or leaving behind bits and pieces of paper towel residue. Compared to other name brand paper towels, this one really is in a class of its own. It is thicker and feels stronger. And, once you start cleaning with these paper towels, you will find yourself only needing one or two sheets to clean up spills and messes.
ology™ All-Purpose Cleaner
•

This

All-Purpose

cleaner

can be used in the kitchen on counters, stove tops, as well as throughout the house on most household surfaces.
•

The

Ology

cleaner

is

free

of

harmful

chemicals.

It

does

not

contain

any

harsh

solvents,

dyes,

ammonia,

or

artificial fragrances.
•

The

ingredients

in

this

cleaner

are

plant-based

and

effectively

cut

through

grease

and

grime.
•

Ology

All-Purpose

Cleaner

retails

for

$3.99

per

bottle.
My Thoughts:
This all purpose cleaner is my go-to cleaning product come the weekend when I am cleaning the house. From cleaning the kitchen top to bottom including appliances and countertops, to handling the bathroom sinks and even mirrors, I can count on Ology All-Purpose Cleaner to remove grease and grime, while not leaving a strong chemical smell that in the past would take days to go away, even with the window open to air out the area. Whenever friends or family move into a new home, I make a point to add a few bottles of this all-purpose cleaner to their gift basket, which I later hear them rave about. :-)
I really had a blast talking up the Ology brand line from Walgreens, as well as giving out samples to friends at my recent in-house meetup, as well as using the samples sent me for me use and share my thoughts on. As you can see, I can't stop talking highly of this brand, and can't wait to see if other products will be added in the future. :-)
So, if you are not satisfied with the current personal care or household products you use around your family, when not check out the trusted and much loved Ology line from Walgreens. Since making the since back in 2012, I can't stop raving about the Ology products to family and friends, and have even seen them taking the pledge to create a healthier environment for their family by throwing out products containing harmful chemicals and saying "hello" to Ology brand products.
For more information about the Ology brand available only at Walgreens, please visit: www.walgreens.com/ology today. Once you give these products a try, you will find yourself making the switch like I did, and feeling good about it, as your family's health is top priority -- which the folks at Walgreens know, and the reason why they launched the Ology brand in the first place back in 2012.
**Don't forget to like Walgreens on their social media pages to stay up-to-date on new product additions to the Ology brand line, special offers and money saving coupons and such more more...**
Disclosure: I

received

this

product

for

free

from

the

sponsor

of

the

Moms

Meet program,

May

Media

Group

LLC,

who

received

it

directly

from

the

manufacturer.

As

a
Moms

Meet Ambassador, I was able to try out these products and share a personal and honest review of the Ology brand line. All views shared are mine and mine alone.