Back in the fall of 2012, I was first introduced to Carrie A. Person and her work. I had the opportunity to interview her and promote her children's book release, "A Winter's Tale," which my girls love to have me read to them still today. So, when I heard that Carrie was releasing another book, "A Cool Summer Tail," I had to reach out and see about participating in her book blog tour for this release. Not only were the folks at Arbordale Publishing kind enough to send along a review copy for me to share with the girls, but they also coordinated another author interview with Carrie. :-)
If you missed my review of Carrie's book, "A Winter's Tale" back in 2012, you can read it here: http://www.inspiredbysavannah.com/2012/10/book-blog-tour-warm-winter-tail-by.html.
Today, I wanted to share more about her new release, "A Cool Summer Tail," as well as share my Q&A with Carrie A. Pearson, as she discusses her inspiration for this book, what she is working on now, and responds to some other fun questions I asked.
Enjoy!
Synopsis:
"

When summer heats up, animals find ways to stay cool. In "

A Cool Summer Tail"

animals wonder how humans stay cool too. Do they dig under the dirt, grow special summer hair, or only come out at night? This companion to the popular

A Warm Winter Tail

features many of same animals but this time, with their summer adaptations, offering an important "compare and contrast" opportunity."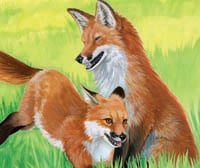 32 pg, 10 x 8.5, Ages 4-8, Grades PK-3
Lexile: 700, AR: P 3.4, F&P: N
Hardcover ISBN: 9781628552058, $17.95
Paperback ISBN: 9781628552140, $9.95
Educator Keywords:

summer adaptations, seasons, life science, learned behavior, instinct
Animals in the book:

red fox, painted turtle, black-capped chickadee, black bear, white-tailed deer, honeybee, grey squirrel, black swallowtail butterfly, wood frog, garter snake, Costa's hummingbird
Q&A with Carrie A. Pearson, Author of "A Cool Summer Tail"
Tell me about your book. How did you come up with that (story, angle, idea)?
During the research process of my book, A Warm Winter Tail, about how animals adapt to the cold, I frequently found interesting information about adaptation to heat. I kept track of the resources and let ideas for a possible new book hang out in my head for about 6 months. I decided I had enough to jump back into research, added to what I had learned previously, and began writing the story.
How did you get interested in writing this particular genre?
I love the intersection of fiction and nonfiction. It's that moment when a tidbit of information makes me think, "I didn't know that!" My office is filled with sticky notes, scraps of paper, and print articles on topics that have a basis in reality, but could be jumping off points for story.
Do you have any favorite authors or favorite books?
My taste in authors and books is eclectic and changes as I change. But I do have books I return to because they have tickled me, surprised me, or changed me as a person (or writer). As a child, I loved the Misty of Chincoteague series by Marguerite Henry because of the subject matter (HORSES!), but also because when I read it, I was completely captivated. I strive for this element in my writing. The more contemporary I Wanna Iguana by Karen Kaufman Orloff and David Catrow is my version of a perfect picture book. It encapsulates the give and take of love yet the words "I love you" are never spoken. This is another goal for me: lots of layers in my stories.
What's a typical working day like for you? When and where do you write? Do you set a daily writing goal?
I write in a pretty office space in my home with a window that overlooks a woods. I'm very lucky to have it. But the downside is there is no door. So, I maneuver my schedule to take advantage of quiet. On the weekdays, after my daughters and husband are off where they are supposed to be and the two dogs are fed, my days almost always begin with writing. I tune up with email correspondence, then tackle a bigger project for a couple of hours – revisions, a blurb for a new story, etc. -- when my attention span is at its best. By 11:00 AM or so, the dogs and I are restless so we head out for exercise. The rest of the day is hit or miss. I might have another chunk of writing time in the afternoon or I might be playing mom, taking care of responsibilities related to my role as co-Regional Advisor for SCBWI Michigan, or doing household chores. On the weekends, I'm up early to catch my writing time in the morning before the busy day begins. Then it's a free for all with four other people milling about!
What is the hardest part of writing for you?
Revision. Revision. Revision. Once I see a story in my mind, it is hard for me to expand that vision. I work hard to open my mind to new ways of seeing my story.
What's the best thing about being an author?
Watching children interact with my books: their open and engaged expressions, their little mouths moving as they sound out words, when they ask their adult about something they see in the book. This is my true delight.
What are you working on now?
Ugh. Revisions! I've written a middle grade historical novel and according to my agent, it is almost ready to go on submission, but needs a little more tweaking. I'll get it there, but it isn't easy for me. After that, I hope to focus on a new nonfiction picture book manuscript about the ecosystem in the worlds' tallest trees and the people who found it.
What advice would you give aspiring writers?
Start writing. Keep writing. Read what you've written to people in your circle. Pay attention to their reactions. Did they zone out? Laugh at something you didn't expect? Does their reaction encourage you to write more? Listen to your interests and write in that place. Remember that writing because we love to write and writing to be published often are two separate things. They can join up, but it isn't always the case, especially when we begin writing.
What question have you always wanted to be asked in an interview? How would you answer that question?
How about, "What surprised you about being published?"
I was surprised that my life didn't change much. I had this image that once I cracked the "being published" nut (which took five long, hard years, by the way), I'd walk down the street and everyone would know about it and ask for school visits! and book signings! and interviews! The reality is people who know are incredibly supportive and sweet and helpful. But most people don't know or are busy going about their lives (rightly so) and often it is up to me to ask for school visits and book signings and interviews. My life is certainly enriched with the experience and I work hard towards experiencing it many times over, but I haven't been given the key to the city. Yet. :-)
Thank you, Robin, for the interview!
Author/Illustrator Info:
Carrie A. (Ann) Pearson is a former early elementary teacher and the winner of a SCBWI-Michigan Picture Book Mentorship Award and a Work of Outstanding Promise grant. A Cool Summer Tail, and the companion,A Warm Winter Tail (2013-2014 Great Lakes Great Books Literature Program and a Gelett Burgess Award) follow many of the same animals to describe how they manage the hot summer and cold winter weather. Carrie and her family live in the upper peninsula of Michigan. Visit her website at www.carriepearsonbooks.com.


In addition to illustrating A Cool Summer Tail, A Warm Winter Tail,Habitat Spy, Little Red Bat, and Henry the Impatient Heron for Sylvan Dell, Christina Wald has illustrated for a wide variety of toys, games, books, and magazines. From a book that featured hundreds of animals on each page (Look, Find, and Learn: Animals of the World) to games including the Star Wars role playing game series, every assignment covers something new and exciting. In recent years, she has illustrated tons of different animals for books and other publications. Christina enjoys the research aspect of such projects, saying that each new book is a fascinating new learning experience. She often integrates travel to research for her illustrations. She lives in Ohio with her husband and three cats. Visit Christina's website.