Disclosure: I was sent samples from the vendor in order to write up an honest review. All views shared are mine and mine alone.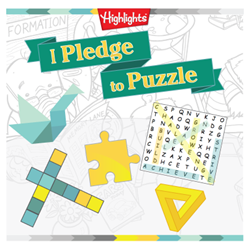 Did you know that January 29th is National Puzzle Day? If it wasn't for an email from Highlights I would never have known. Thanks to their email, I not only was sent samples of one of their two new Highlights Puzzle Book Clubs, Which Way USA, but they also shared a link to a great blog post about the benefits of puzzling for kids that really opened my eyes to the importance of engaging kids with puzzles from an early age and beyond. You can read this post from Highlights here -- http://blog.highlights.com/post/72680624661/what-is-the-value-in-children-doing-puzzles.
Both of my girls love doing puzzles and are starting to get into search and find puzzle books. As for my 6 and 8 year old nephew and niece, they too, love puzzles and are seeing the benefits when it comes to solving math and reading problems, and problem-solving skills as a whole. I used to love doing puzzles as a kid, and when I went through chemo treatment in 2008, friends and family filled canvas totes with puzzle books to help keep my mind sharp, so that chemo brain didn't set in. Boy did these puzzle books come in handy during the 5+ hour weekly treatments. Not only did they keep my mind sharp, but they helped keep my mind off of other things, which really helped. I had gotten so busy with life before cancer that I forgot how much I loved doing puzzles. Now, I make a point to take at least 10-15 minutes a day, either when the girls are napping, playing together or at night time to do a few puzzles. Puzzles are not only great ways to reduce stress, but really do keep your mind and your problem-solving skills sharp.
I knew up loving Highlights and now get to share their puzzle books with my kids. The new Which Way USA puzzle books have become a hit with the kids since receiving the other day. And, with today's snow day, the samples sent are getting good use. I was sent the Which Way USA puzzle books for FL and TX, and love hearing my niece and nephew talk about wanting to visit these states after learning fun facts about each through a variety of puzzles including mazes, word search, multiple choice map, wordplay, math games and more.
My kids loved laying the two state maps out on the floor and tracing routes that they would have my husband and I drive to visit different attractions along the way during our upcoming summer vacations. It is good to have travel planners in our house. :-)
With fun characters like Trip and Scout, their fun challenges to see who can collect the most points and solve the most puzzles really do make the Which Way USA puzzle books fun for kids, while teaching them about the different states. I will definitely be signing the kids up for this puzzle club, and sharing more about it with family and friends. If you want to learn more about the Which Way USA or the Hidden Pictures Club (another favorite of my kids), click here now to visit the Highlights website -- http://www.highlights.com/.
I hope you will join me and other families as we take the "Pledge to Puzzle" on January 29th and make a commitment to spend at least 15 minutes doing a puzzle with a child on

January 29

th. Pledge to Puzzle by downloading a FREE pack of puzzles from

Highlights

at this link.
And, beginning

January 23rd

, Highlights be posting trivia and solvable puzzles on their Facebook page. Those who comment with the correct answers will have a chance to win a puzzle prize pack. Sounds like fun. I will definitely be commenting! :-)
Disclosure: I was sent samples from the vendor in order to write up an honest review. All views shared are mine and mine alone.