Disclosure: I was sent a sample from the vendor in order to write up an honest review. All views shared are mine and mine alone.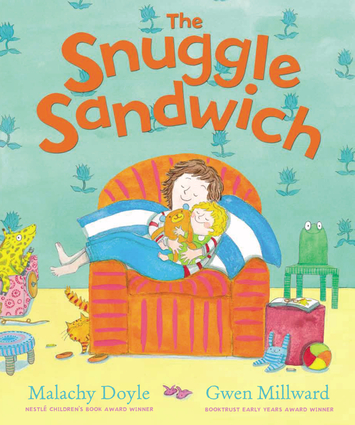 FORMATS: PAPERBACK PICTURE BOOK
PAPERBACK PICTURE BOOK, $9.99 (US $9.99)
PUBLICATION DATE: OCTOBER 2013
"Morning chaos gives way to a quiet moment, in this perfect book to snuggle up withIn the early morning bustle of breakfast time, no one notices when little Annie's teddy bear, Ted, falls to the floor. It is only when the morning rush is finally over that Mama and Annie find him. And then comes Annie's favorite time of day when she, Ted, and Mama at last have time for a snuggle all together."
We have a new way to hug in our house...the "Snuggle Sandwich." Thanks to recent release of "The Snuggle Sandwich" by Malachy Doyle, I can't help but grab the girls a little ones a few extra times in the day just to give them a snuggle. And, now whenever we hug, or the girls want to cuddle, they ask for a "Snuggle Sandwich." Savannah even tells me when I am in the middle, that "I am the jelly to her peanut butter sandwich." When I am not snuggling the girls, they are surprising during their sibling fighting by stopping throughout the day to hug it out. :-)
The story itself is not only cute, but I loved the playful and oh so colorful illustrations, as they really drew the girls in and kept their attention. They couldn't wait for me to turn to the page to point out little things on each page, from a messy bedroom with random toys on the floor, to a cat sitting at the kitchen sink looking out the window. It is amazing what children pick up and zone in on when they are read to.
My girls keep asking for this book, and I can't resist stopping what I am doing to read it to them, as I know the reward we will all get -- "Snuggle Sandwich" time. This is no better feeling for a parent than to be able to pull your child close and feel their warm embrace. My friends will older children keep telling me to enjoy these precious moments as when they get older they will not want to cuddle. I don't want to think about this, as I love their hugs, and being able to show them how much Mommy loves them through my embraces. Maybe if the others read "The Snuggle Sandwich" to their children, maybe, just maybe, they will be able to feel the power of a child's hug, like I am so blessed to enjoy each day. :-)
About the Author:
Malachy Doyle is the author of more than 70 children's books, including The Barefoot Book of Fairy Tales, Horse, Owen and the Mountain, Tales from Old Ireland, and The Dancing Tiger, for which he won the Nestle Children's Prize Silver Award.
About the Illustrator:
Gwen Millward is the illustrator of The Bog Baby and Guess What I Found in Dragon Wood.
Disclosure: I was sent a sample from the vendor in order to write up an honest review. All views shared are mine and mine alone.