Disclosure: I was sent a review copy from the publisher in order to write up an honest review. All views shared are mine and mine alone.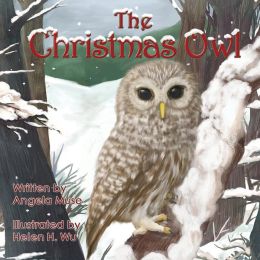 ISBN-13:

9781492936732

Publisher:

CreateSpace Independent Publishing Platform

Publication date:

10/8/2013

Pages: 38

Sales rank: 125,012

Product dimensions: 8.30 (w) x 8.40 (h) x 0.30 (d)
I'm very excited to share another wonderful new holiday book with you, as you make your last minute holiday purchases. "The Christmas Owl," by Angela Muse, will become a favorite in your home, as it has in our home. We will definitely be making a point to read this book around the holidays for years to come.
"The Christmas Owl" is newly available in paperback from CreateSpace and as an e-book through Kindle Direct Publishing, Amazon.com's self-publishing platforms. We'd love to work with you to help spread the word – and holiday cheer! – about "The Christmas Owl."
"Inspired by her own love of owls, author Angela Muse's "The Christmas Owl" follows the adventures of a Barred Owl who becomes injured and must ask others for help. He promises to give back to those who have a generous and kind heart – and he is true to his word. Filled with beautiful illustrations, "The Christmas Owl" is a heartwarming story that helps families celebrate the season of giving. It also makes a perfect gift or stocking stuffer!"
And, here is a cute trailer about the book, letting you see the beautiful illustrations and story that is waiting for you when you purchase "The Christmas Owl" this holiday season:
We received this book last night, and upon taking it out of the envelope, I instantly fell in love with the illustration of the Barred owl on the cover. Truly a breathtaking animal, and one I knew the girls would fall in love with, as they have the same big, brown eyes, that captivate you. I couldn't help but read the book last night, and can't say enough about how good it was. Even though it is a children's book, parents will love sitting down to read this book with their children. The story line is easy to understand, and offers up discussion afterwards about helping others in need, and being true to your word.
The story centers around the Barred owl, who injures its wing. Unable to fly back to his nest, he makes his way in the woods and comes across different animals. He asks if he can share their shelter for the night, in hopes to mend his hurt wing. At first, the animals are put off by his size. Each inquire about what he would eat. He says that he can share a nibble or small piece of whatever they are having. And, in return for food and shelter, he will repay their kindness.
When the owl's wing is finally better, he holds true to his promise about thanking his new friends for their graciousness when he needed it most. And, every Christmas, the owl pays a visit to his friends who helped him, leaving gifts and enjoying their company. Truly a heartwarming story, and one worth sharing with children this holiday season. While kids are looking forward to Santa coming with lots of toys, they need to be reminded about the true meaning of the season, and that giving is much better than receiving, especially when you can help someone in need.
I highly suggest this book, and know it will be stable in our holiday readings for years to come.
About Author, Angela Muse:
"The Christmas Owl" is the latest book from Angela Muse. Angela was born into a military family, which meant she had to get used to being the "new kid" in school every couple of years. It was hard for her to make new friends, but she soon discovered she had a knack for writing. In high school, Angela began writing poetry and song lyrics and, after becoming a mom in 2003, she continued her storytelling to her own children. In 2009, she wrote and self-published her first children's book. Since then, she has published several additional children's picture books – as well as her first young adult romance novel! – through Amazon's independent publishing platforms, CreateSpace (for print books) and Kindle Direct Publishing (for e-books).