Have you gone through all your holiday-themed books yet with your kids at bedtime? Well, here are some great books available now from Sterling Publishing, that would make for a great bedtime read with your children. We have been reading "Brownie Groundhog and the Wintry Surprise" to the girls these past few nights, as they can't get enough of Brownie and her friends.
Enjoy the following books as your bond with your child at bedtime, and promote a love for reading and books with them, at any age: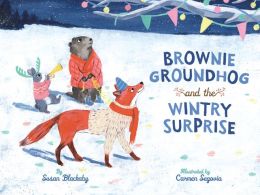 Brownie Groundhog and the Wintry Surprise
Brownie is ready for a long winter's nap. But her friends miss her so much that they can't bear to obey her orders—and they turn Brownie's "do not disturb" into a comic commotion, complete with a beautiful nighttime surprise.
BUY the book
B&N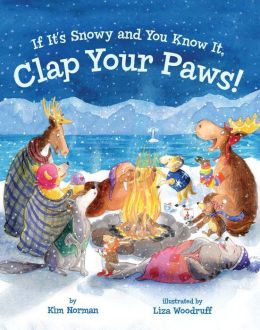 If It's Snowy and You Know It, Clap Your Paws!
Adorable animals play joyfully in the snow, tumble on the tundra, make frosty forts, and more in this irresistible winter-themed romp that's a humorous variation on the classic song "If You're Happy and You Know It."
BUY the book
B&N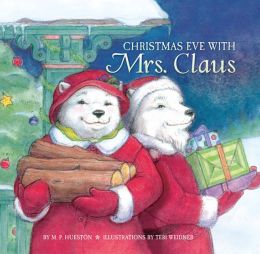 Christmas Eve with Mrs. Claus
Christmas Eve is a busy time in Santa's headquarters—for Mrs. Claus, too. Kids will have happy holiday fun helping her find missing items to make a tasty snack for Santa's trip in this lift-the-flap book.
BUY the book
B&N
It's Christmas--and for Ballet Kitty, that means The Nutcracker! She's going to perform the Sugar Plum Fairy, her favorite role from the ballet, at a real recital. Kitty's so excited she can hardly wait. But when her very best friend wants to dance the same solo, suddenly the show isn't fun anymore. This charming tale of friendship, ballet, and the thrill of being onstage will enchant little ballerinas everywhere.
When I woke up on the day before Christmas, the snow had just started to fall.

"Out of bed, sleepyhead!" called my mother. "We're going to have to work our tails off to get ready for Christmas tomorrow."

Serge Bloch, the witty author and illustrator of Butterflies in My Stomach, Reach for the Stars, and You Are What You Eat, brings his readers a touch of happy holiday spirit.

Everyone's a little snowed under preparing for Christmas: a storm is brewing, and there's fear Santa might get stuck at the North Pole. But all it takes is a little decking the halls and trimming the tree to have everyone lighting up with joy.

Bloch's humor and unique art--which combines photographs and charming line drawings--help make Christmas very merry, indeed.

Peppermints, popcorn, and hot apple cider: with a scratch and a sniff, Clement C. Moore's perennial holiday favorite comes deliciously alive as never before. Populated by animal characters (including a bear-y merry St. Nick), every brightly illustrated spread features a different delectable Christmas smell for kids to uncover: spicy nutmeg sprinkled on favorite foods, the aroma of blue spruce trees, the leather reins on Santa's sled, oranges in his sack, and a whiff of warm pie crust.

Cheerful, energetic, and unique, this is sure to be a much-loved volume for many years to come.

Author Kim Norman (Crocodaddy) and illustrator Liza Woodruff have whipped up a rollicking, jolly, snow-filled adventure!

In the land of the midnight sun, all the animals are having fun speeding down the hill on Caribou's sled. But as they go faster and faster, Seal, Hare, Walrus, and the others all fall off…until just Caribou's left, only and lonely. Now, a reindeer likes flying-but never alone, so…one through ten, all leap on again!

An ideal picture book for reading-and singing along with—over and over.
Celebrate Christmas Busytown-style. Firefighters are stringing lights, stores are crowded, and everyone is in a merry mood in these four mini bo Aard books based on Richard Scarry's Best Christmas Ever! Each brightly illustrated story spreads holiday cheer.
For Santa, December 26th was a horrible, awful day.
It was THE WORST DAY OF THE YEAR.

Santa gets the post-holiday blues … When the toys are all made, the presents handed out, the Christmas cookies eaten, and the stockings unhung from the chimney with care … Santa is miserable. His reindeer and elves can't lift his spirits, and even a vacation with Mrs. Claus doesn't do the trick. Will Santa ever feel like his old holly-jolly self again? This quirky, funny, and completely unique picture book by hot young hipster illustrator Tad Carpenter will appeal to kids and parents alike.
Christmas is coming-and where better to celebrate than in Busytown? Firefighters are stringing lights, stores are crowded, and everyone is in a merry mood. Richard Scarry captures holiday cheer in a series of delightful and brightly illustrated stories featuring his most popular characters, including Huckle Cat and lovable Lowly Worm.

Each small tale sparkles with joy and kindness-and there are also songs, games, a list of Christmas words, and instructions for making a great gift for Grandma!
On the first day of Christmas, a gift was sent to me: a parrot in a palm tree! Ahoy mateys--Christmas is coming and even pirates celebrate the holiday! This follow-up to the hugely popular A Pirate's Night Before Christmas offers a witty re-imagining of "The Twelve Days of Christmas"--with a sly buccaneer twist. A brave cabin boy receives marvelously mysterious gifts for each of the 12 days he is left alone to guard the pirate ship: 12 cannons blastin', 9 mermaids singin', 6 Jolly Rogers, and so on--but who are they from? With impeccable rhythm and a lively sense of fun, Philip Yates and Sebastià Serra create a delightful world all their own.
Young mateys will find plenty of holiday joy in this humorous, colorful, and thoroughly piratical version of the beloved Clement C. Moore classic. On this ship of mischievous brigands—who have visions of treasure chests, not sugarplums, dancing in their heads—you wouldn't expect a visit from nice St. Nick. Instead, here comes Sir Peggedy, with his peg leg and hook arm, cracking his whip and driving eight giant seahorses: Salty, Scurvy, Sinbad, Mollie, Cutthroat, Cross-Eyes, Roger, and Jolly.

Philip Yates' rollicking rhymes and Sebastià Serra's sprightly, fun-filled pictures—featuring whimsically multicolored seahorses, stockings hung on the ship's bowsprit with tar, child-friendly pirates, and a complete treasure map—turn this Christmas perennial into a jubilant celebration!

The Night Before Christmas is the most enduring and memorable of all holiday poems. Celebrated artist Gyo Fujikawa brings new levels of excitement and joy to the verse, concocting a variety of goodies to feed sugarplum visions. From the first lovable image of a pink-eared mouse to the final spread of Papa waving goodbye as Santa and his reindeer fly away into the sky, Fujikawa provides pure enchantment. Kittens and dogs curl up everywhere in the old-fashioned home; stockings hang by the fireplace; and a group of irresistibly adorable children nestle next to cakes, cookies, and candy canes on a bed of soft dreamy clouds. Young readers and adults alike will be mesmerized. This edition of The Night Before Christmas was originally published by Grosset & Dunlap in 1961.
Glistening icicles, sparkling wrap on festive gifts, and merrily twinkling lights on trees make a child's Christmas-and this book-absolutely magical. Every page captures the holiday spirit and features something that shimmers and shines.
Have a merry, old-fashioned Christmas with this enchanting book!

With the pull of a tab, Santa and his reindeer-driven sleigh fly across a beautiful night sky and over the rooftops. A snow-covered evergreen suddenly lights up beside a glowing fire, and a few bits of flour turn into a perfect gingerbread house. All these special Christmas moments, and more, magically appear in this stunningly illustrated changing pictures book. Kirsten Hall's lyrical verses will delight readers of all ages, and Simon Mendez's exquisite art brings the holiday season to life.
Little Critter stars in this merry retelling of Clement C. Moore's classic holiday poem, complete with a CD for kids to enjoy with the book.

Mercer Mayer's warm and witty illustrations add a humorous touch to this magical night, when Little Critter gazes in wonder at jolly Santa Claus, his old-fashioned sleigh, eight prancing reindeer, and a bundle of colorful toys.

The beloved characters from Smee's Clip-Clop are off on a wild and wintry ride. Mr. Horse has invited all the barnyard animals into his sleigh, and Cat, Dog, Pig, and Duck couldn't be more excited. Soon, they're holding on tight and dashing through the snow with bells jingle-jingling all the way. Over the fields they fly-but when they reach the hill, everyone wants to slide down…even Mr. Horse, of course. Is there room for them all? Like the happy Mr. Horse, toddlers will think "THAT WAS SO COOL!"
Jesus our brother, kind and good,
Was humbly born in a stable of wood,
And the friendly beasts around him stood,
Jesus our brother, kind and good.

This beautiful holiday book uses a timeless, beloved Christmas song to tell the story of the nativity. In the manger where Jesus was born, all the animals flock around Him and tell of the special gifts they gave to the infant. From the donkey that carried Mary to Bethlehem to the sheep whose wool made the baby a warm blanket and the doves that cooed a lullaby, these fluffy creatures will steal children's hearts. Author/illustrator Patricia Eubank even penned two new verses to include the familiar cat and dog!
Christmas is coming . . . and Little Reindeer can't wait! Every day, he counts down, from 10 snowflakes falling to 1 bright star shining on Christmas Eve. On each spread, children can lift the flaps—25 in all!—and find wonderful surprises beneath. With its irresistible combination of Christmas, counting, and things to find, it's the perfect holiday board book.
So, head to your local bookstore, if you still have one in your area, or order online any of the above holiday titles. This is a great time to add to your family's holiday book collection, and share wonderous stories of the season with your children this year and for years to come.