Disclosure: I was sent product from the vendor in exchange for my sharing more about their website/company. However, all views shared are mine and mine alone.
Can you believe that there are only 2 more weeks, or 14 days until Christmas? Have you finished your shopping list? Don't worry, I will not ask if you have wrapped, as I am guessing you are in the same boat as me, and busy with every day stuff and last minute shopping to find free time to wrap gifts just yet. If only my husband knew how to wrap gifts...then, I wouldn't have to worry about finding time next week to wrap, wrap, wrap. In addition to not knowing how to wrap -- or secretly knowing how to, but claiming he doesn't as he doesn't want to wrap the pile of gifts for the girls...Hmm. now that I think about it...he wraps my gifts for birthdays, anniversaries and Christmas. Argg! Fooled again. :-)
In addition to not knowing how to wrap, my husband also doesn't know how to shop when it comes to buying them that I would want or use. Take for instance last Christmas...he surprised me with a new blender. A nice blender it was, but did he forget we had 3 in the house -- 1 in the kitchen, 1 at the bar, and 1 in storage? While I am still partial the the blender we received years ago as a wedding gift, my husband is enjoying the new blender I got from him for Christmas each morning when he makes his energy or smoothie drinks.
But, this year, I wanted to make sure that when he went shopping (as of yet, he still hasn't as he likes the rush of last minute shopping -- Shh, I think it is procrastination, but I may be wrong) that he had a list of things that I really wanted (and didn't have). What was top on my list? Besides comfy pajamas, chocolates and a few books and movies, I asked for a birthstone pendant. Many of the moms in my moms groups wear a beautiful necklace showing off the different names, birthstones, etc. of their children. I always thought this was a great idea, but kept forgetting to share this as a hint-hint with my husband. This year, I remembered, thanks to Kranich's Jewelers. Although they are based out of Pennsylvania (I live in CT), they also offer an online store, where you can purchase their fine diamond jewelry, colored gemstones, gold and platinum jewelry, engagement rings, watches for men and women, as well as earrings, charms, pearls and even estate jewelry. "They feature selections of Designer Jewelry, Estate Jewelry, Penn State Jewelry and Fine Crystal. Kranich's features pieces by Simon G, Verragio, Ritani, Hidalgo, Belle Etoille, Swarovski, Pandora, Gucci, Burberry, and Michael Kors."
I found out about Kranich's Jewelry after doing a search for "Mother's Jewelry." And, after visiting their website, I knew where I would be sending my husband to create the perfect keepsake that I could wear each day and treasure for years to come. If you are a fan of "Mother/Child" jewelry, you will want to check out Kranich's Jewelers offering, as it the best that I have seen, and so unique. Just look at this beautiful pendant, which is available for purchase online, as well as their retail locations: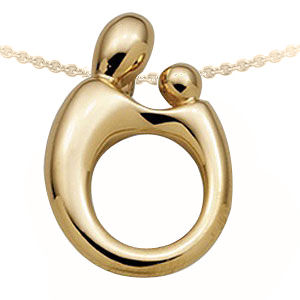 In addition to their Mother and Child collection, I also found myself going back and admiring this cute enamel butterfly necklace -
Not only would this necklace go well with both casual and dressy attire, I know two other girls in our house that would love to admire it as well. My girls are both crazy about butterflies, and love to point them out whenever they see one -- on television, in a book or outdoors. Just seeing their excitement for these beautiful creatures reminds me of their youth and pure innocence, and how when I was their age I used to love chasing and admiring the butterflies. I don't have to worry about putting this necklace on my "Santa Wish List" as the kind folks at Kranich's will be sending one my way, as a thank you for sharing more about their store. Yippie!!! Insert happy dance here. :-)
Even though I limit the amount of jewelry I wear because my girls like to hang off my neck and tug at my arms, etc., I would love to add a few pieces from this collection to my personal jewelry collection. These pieces are simply stunning, aren't they?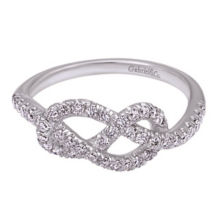 I love this infinity ring! :-)
And, these two engagement rings look like something a celebrity would be showing off --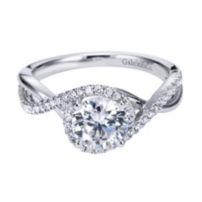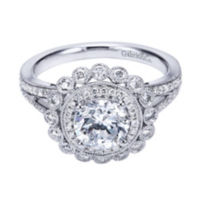 Well, I could go on and on about how great Kranich's Jewelry is, and how I love their prices, and can see why they have been in business for over a 100 years (since 1903), why not head on over to their online store and browse their current offering? Who know? Maybe you will fall in love with a piece, and hint to your spouse that you would love to see this under the tree.
Again, there are 14 days left to shop, and guys like to leave it to the end. If you live in or around the Pennsylvania location, why not print out your wish list, attach the directions and leave it front and center on the refrigerator? This always seems to catch my husband's attention. :-)
Disclosure: I was sent product from the vendor in exchange for my sharing more about their website/company. However, all views shared are mine and mine alone.