Disclosure: I was sent a sample from the vendor in order to write up an honest review. The views shared are mine and mine alone.
I was so excited to share the Block Crayon Color & Stow Farm from Wooky Entertainment with my girls recently. Even though they have countless coloring books and crayons, this is the first all-in-one storage bin with fun stackable nub crayons that we have owned. Do your little ones love farm animals? When it came to teach my girls new words, we found that teaching them different animals and their sounds came easy for them. And, because of this, whenever we went to the zoo or a farm, the girls were always eager to point out the animals and tell us what they were and the sounds they made.
So, when the girls saw this cute plastic farm barn, they were curious to see what was inside. At first, Savannah thought that it was filled with plastic animals. Bella, on the other hand, thought it was filled with animal cookies...go figure. :-) But, they were both pleasantly surprised when I took the top off to reveal fun stackable crayons, which were in the shape of blocks and had imprints of farm animals, letters, numbers and even a cowboy or cowgirl on them. And, hiding the cover was a 15-ft. roll of coloring paper, that had farm inspired scenes for little ones to color.
For over an hour, the girls played together, coloring in the different farm scenes, and stacking the crayons as high as they could go. Bella especially loved how the crayons had an opening in the bottom, so that she could put her finger in and color this way. When it came time to pick up, I had the girls add a few Ziploc bags of their crayons to this cute storage bin. Now, I don't have to worry about stepping on a crayon on the floor, or having to look through drawers to find bags of loose crayons for the girls. Instead, they can be in charge of picking up at the end of their coloring session, and I can store this cute barn on the shelf. :-)
Since using for the firs time, the girls continue to ask to color with their new fun block crayons. And, when Nana and Papa come to visit in a couple of weeks, they will be surprised with beautiful farm scenes colored by the girls, that they can take home and put on their refrigerator. My fridge is covered with cows and sheep, thanks to my two artists, and this fun Block Crayon Color & Stow Farm from Wooky Entertainment.
So, if you have a toddler or preschooler and are looking for a fun gift that they will get a lot of use out of and that doesn't require hours of assembly or reading through difficult to follow instructions, then you will want to check out this and other Block Crayon products from Wooky Entertainment.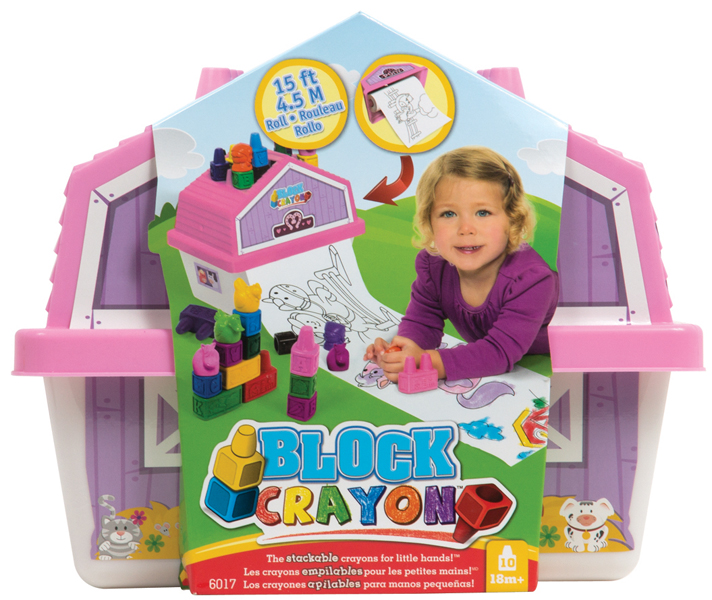 Savannah has since asked to have the Color & Stow Pony Stable put on her Christmas list, as she loves ponies, while Bella is asking for more block crayons in general, as they are easy to hold and color with, compared to the clunky or thin crayons Savannah liked to use before the Block Crayon Color & Stow Farm came our way.
Wooky Entertainment has updated the Block Crayon website, located at http://www.blockcrayon.com. Find them on Facebook, too, at http://www.facebook.com/blockcrayon and on YouTube at http://youtu.be/Pq4y7x3Qmn8.
About Wooky Entertainment Inc. :

Wooky Entertainment is a Montreal-based brand development company that produces and distributes high-quality, trend-right product worldwide. The company's portfolio includes six standout brands for boys and girls of all ages: Style Me Up!®, Block Crayon™, Mixy™, Mathable®, Artzooka!™, and Design Masters™. Wooky Entertainment aims for excellence in creativity and design. The company's goal is to present the latest, freshest, most fashion-forward innovations for everyone. For more information, visit http://www.wookyentertainment.com.
Disclosure: I was sent a sample from the vendor in order to write up an honest review. The views shared are mine and mine alone.