Disclosure: I was sent a copy of this book by the publisher in order to write up an honest review. The views shared are mine and mine alone.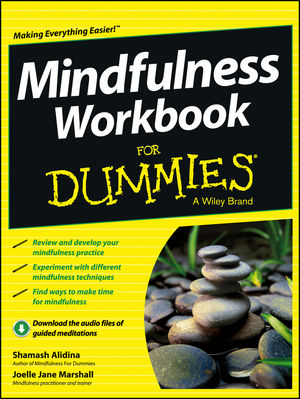 US $19.99
Synopsis:
Restore balance to your life and live in the moment
"Mindfulness is a proven meditation technique that can help you restore balance in your personal life. Now, the author of Mindfulness For Dummies shows you step-by-step how to put the lessons of his book into practice.
Inside you'll find a huge number of hands-on exercises and techniques to help you to live in the present, let go of negative, distracting, and judgmental thoughts, and achieve greater happiness and contentment in your life.
Mindfulness can be applied to a range of conditions, including depression, anxiety, stress, fatigue, or illness

Practicing mindfulness promotes well-being and improves quality of life

The audio CD contains guided meditations to enhance the practical guidance within the book
Mindfulness Workbook For Dummies gives you the tools you need to pay attention to the present without judgment, and build a happier life. "
CD-ROM/DVD and other supplementary materials are not included as part of the e-book file, but are available for download after purchase.
My Thoughts:
I am not usually one to read "For Dummies" books, but was intrigued by this book and the different activities it included to help you gain better mindfulness in your life.
This workbook is broken up into the following sections:

Part 1: Getting Started with Mindfulness
Part 2: Preparing Yourself for Mindful Living
Part 3: Practising Mildfulness
Part 4: Enjoying the Rewards of Mildfulness
Part 5: The Part of Tens

I love it when books break down the topic at hand into sections, as I can either choose to go in order or skip around to different sections. Being a person who likes to practice things like mindfulness, I found myself spending most of my time on Part 3, which included over 80 pages of exercises that ultimately helped me on my mindfulness journey.

Being a busy mom with two young girls 3 and under, as well as now having custody of my 6 and 8 yr. old niece and nephew, I find my free time (including that of reflection and meditation) to be limited. In the past, I would put the girls to bed, and then light a candle, sit on the couch or our oversized comfy chair and practice deep breathing exercises, mediate, or destress from the days' hectic schedule. In doing so, I was able to relieve built up tension in my neck and shoulders, have a sense of calmness come over me, and be able to fall asleep a little easier (even if I was woken up a few times in the night by the girls). But, I couldn't believe that when my free time was recently cut in half or gone altogether, how much I yearned for just a few minutes of peace and quiet, in order to bring equilibrium to myself. And, when I did have a few minutes to spare, my mind was scattered, and I didn't know how to approach mindful living, as I had in the past.

So, when I read about this book, and was offered a copy to review, I couldn't say no, as I was eager to see if the tips, exercises, etc. about mindful living would help me get my life back on track. I slowly got into the book, and found it easier to concentrate on a chapter a night. By the time I finished the book, most of the pages were highlighted or tagged with sticky notes, to return back to. While the exercises helped immensely, I also found the final two chapters to sum up the book, as they provided useful tips for a mindful life and tips on how to motivate oneself to mediate. If you have never mediated before, you may be surprised at difficult it is once you try it. You really need the quiet time and ability to zone out everything around you and all that goes on in your head, to really mediate. Thanks to this book, I am finally seeing myself life getting back in order, and am happier and feeling more fulfilled. While the title says "For Dummies," this book does not talk down to you. Instead, it explains things so that you can understand it the first time you read it, and not have to read or look elsewhere for further clarification. I will definitely be checking out other self-help books in the "For Dummies" series, as I was impressed with this book, and can see improvements in my overall behavior and mindfulness journey.
Disclosure: I was sent a copy of this book by the publisher in order to write up an honest review. The views shared are mine and mine alone.