Disclosure: I was sent a sample from the vendor in order to write up an honest review. The views shared are mine and mine alone.
I love supporting great causes, especially when it is from companies or people I have come to love. In the past, I have had the pleasure of reviewing t-shirts for men, women and children from Chris Kihlstrom of Ascensionary, and sharing some of his amazing designs. So, when Chris reached out to me recently to share a new t-shirt design, with all proceeds of the t-shirt going to "Books 4 Taiwan," how could I say no?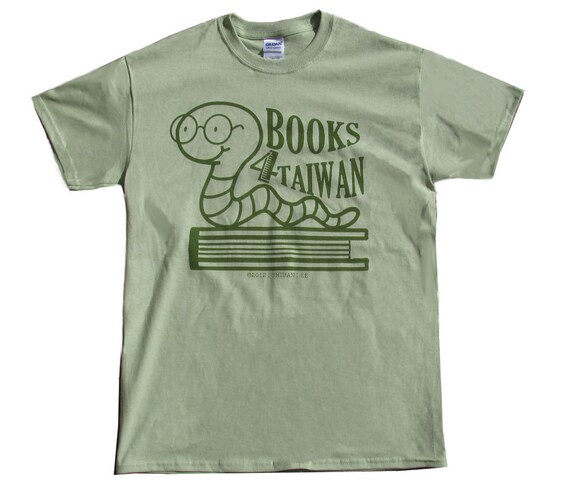 Not only is the t-shirt design/logo cute, with a bookworm wearing glasses crawling along a book, but just knowing that all sales of this t-shirt go to help this volunteer group based out of Morris Plains New Jersey (led by Amy Lai Lin), collect children's books, cookbooks and other supplemental reading material, to ship by ocean to Taiwan's remote area libraries, schools and jails, makes the purchase that much more worthwhile. :-)

At only $19.95, you can order this t-shirt, which is available in pistachio green color in the following sizes: S, M, L, XL and 3XL. Note, these sizes are unisex, so women may want to order a size down for a better fit. I was sent a large in this shirt to review. At first I was going to have to give it to my husband, as he loves Chris' t-shirts, but after seeing it up close, I had to keep it for myself. While it is bigger than most large shirts (because of the unisex sizing), I ended up using this t-shirt as a night shirt. Boy, is this cotton t-shirt comfy. With the warmer weather finally here in New England, I can finally pull out my summer pajamas.

My daughters got a kick out of the bookworm logo, and also thought the bookworm was a cutie! Oh, yeah, so did the Fed Ex guy, who delivered a package the other day to the house, while I was wearing the t-shirt with sweatpants (that is a mom's daily attire for you). :-) He asked about the t-shirt, and I couldn't stop talking about this wonderful volunteer organization and all that they are doing to help bring books to Taiwan's remote areas that need them most. You would have thought I was one of those late night infomercials the way I was plugging this t-shirt. But, when I get excited about a cause like this, I can't help but want to share more about it with family, friends, strangers, and YOU.

Do you think the "Books 4 Taiwan" is cute? If so, why pick up this comfy shirt from Chris' online Etsy store here for only $19.95, plus $3.00 shipping and handing -- http://www.etsy.com/listing/152980914/official-books-for-taiwan-pistachio-t?ref=shop_home_active. And, now that you know that all proceeds from your purchase go to this amazing organization, how can you not want to order and show your support? :-)
Disclosure: I was sent a sample from the vendor in order to write up an honest review. The views shared are mine and mine alone.