Her is my third of four posts I will be sharing about how you can use everyone's favorite marshmallow treat, Peeps, in baked goods recipes, holiday centerpiece decoration

s and

favors -- just to name a few. Today, I will be sharing how Peeps can be added to drinks, including cocktails, to add fun and a festive feel to the glass. Feel free to try out each and every drink, and share with friends, family and pin to your Pinterest board. And, if you have a special drink you like making with Peeps, make sure you include comment below with a post to your recipe, or share your recipe below. I love trying out new recipes you share. :-) Hoppy Easter!!!
Marshmallow Peep Martini
Even though we all have a love/hate relationship with those brightly colored marshmallow bunnies, you'll have nothing but love for this martini.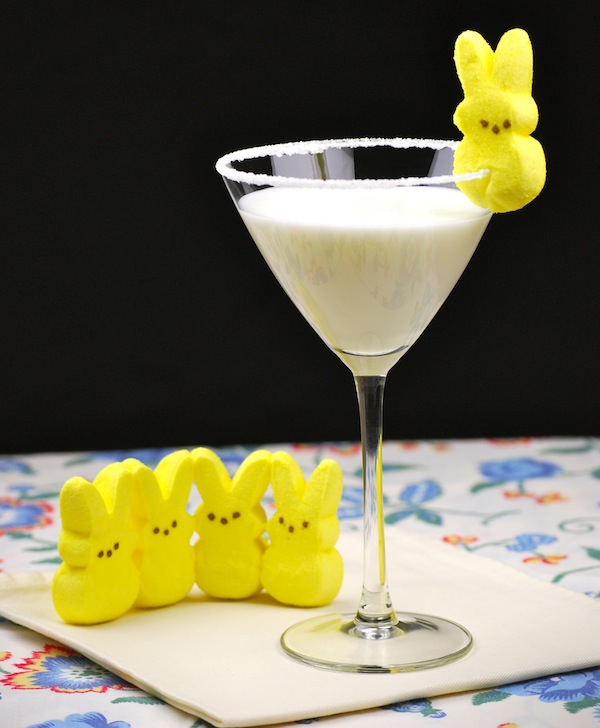 Makes 1
Ingredients:
1-1/2 ounces fluffed marshmallow vodka

1/2 ounce vanilla syrup, plus extra for rim

1 ounce cream

Sugar
Directions:
Pour a small amount of vanilla syrup onto one plate and sprinkle sugar onto another plate. Dip rim of glass in syrup and then into sugar to coat.

Put vodka, syrup and cream in a cocktail shaker with ice.

Shake.

Strain into glass.
Source: http://www.sheknows.com/food-and-recipes/articles/953309/3-easter-candy-martini-recipes

Source: http://www.marshmallowpeeps.com/cookin-with-peeps/recipe-detail/over-the-top-s-mores-shakes
Source: http://www.cafemom.com/group/114240/forums/read/1617182 /PEEPS_Toasted_Marshmallow_Milkshake
Source: http://dixiedelights.blogspot.com/2012/04/bunny-tini.html
Source: http://grinandbakeit.com/peeps-in-paradise-a-blue-hawaiian-cocktail-thats-guaranteed-to-take-the-blues-away
And, this site is dedicated to Peeps-inspired alcoholic drinks, including the following:
So, as the kids enjoy their basket full of Peeps and treats, enjoy knowing that when they go to bed, you and your sweetie can sneak a few and make a couple of the cocktails or beverages above to enjoy together. :-)
Disclosure: I was sent Peeps samples from the vendor in order to write up an honest review. The views above are mine and mine alone.