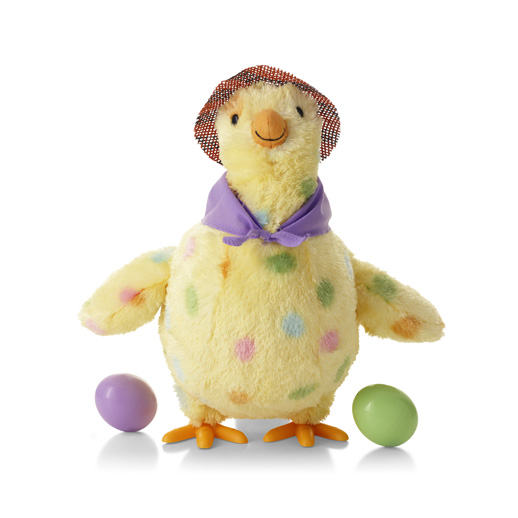 If you want to hear the belly laughs for children, then you will want to pick up the Squawkin' Egg Droppin' Hen available at your local Hallmark Gold Crown store. This Mama Hen was so popular in 2012 and sold out in most stores, that the folks at Hallmark decided to bring it back again this Easter. And, I am so glad that they did, as when we went to pick up the Squawkin' Egg Droppin' Hen last Easter, it was sold out at the 3 local Hallmark stores. But, thankfully this year, the folks at Hallmark saved us from driving around trying to track down this cute Mama Hen, and sen

t me one to review.
As soon as I took the Mama Hen out of the box, the girls both said in unison "Ohh, aahhh," before asking me to put her down of the floor for them to play with. After showing them once how to add the eggs into the opening in her back and pressing the button, they were all ready to have an afternoon of fun and laughs. Here are some photos I snapped of the girls cracking up, as they played with the Sq

uawkin' Egg Droppin' Hen.
Be warned, the song this Mama Hen sings is catchy and will have you singing and dancing along with the kids. Just take a loo

k at this Mama Hen in action --
Isn't she cute? I bet you can think of one or more people who would love to receive this Mama Hen for Easter. Or, why not pick one of these popular Easter decorations from Hallmark to display in your home. Everyone who sees this Mama Hen in action will not help but crack a s

mile, as she bops up and down dropping her eggs. :-)
The Squawkin' Egg Droppin' Hen
is available in Hallmark stores only. It costs $30.95 at
a
regular price or $15.95 with the purchase of three Hallmark cards (for a limited time only)
One lucky reader will win a Squ

a

wkin' Egg Droppin' Hen from Hallmark to enjoy this Easter/Spring. To enter this fun giveaway, please complete the entries on the Rafflecopter form below. Go

od luck!
a Rafflecopter giveaway
Disclosure: I was sent a sample from the vendor in order to write up an honest review. The views above are mine and mi

ne alone.