One of my favorite things about Valentine's Day, besides spending the day with my sweetie of 15 years, is that we always surprise each other with sweet treats. My weakness is anything chocolate, while my husband can't say know to cakes or cupcakes. Usually a few months before Valentine's Day, I begin scouring the Internet to find unique desserts and sweet treats that we have never tried before, and then narrow it down to a couple that ship nationwide (in case I want to send to family and friends at other times of the year, including Christmas) and place an order. In addition to trying to finding treats to share with my honey (and daughters), I also use this opportunity to share these wonderful finds with you -- in case you are looking for a last minute gift idea for Valentine's Day, or another special occasion.
During my search, I stumbled across the Flaky Baking Co.'s Etsy site, which is run by Diane Passage out of New York, NY. I have always been a fan of Etsy-based businesses, and love to showcase these finds on my blog. I have to say that I have never been disappointed with the quality of product when doing business with Etsy sellers. And, when it comes to baked goods and sweets, in my opinion, you get more for your money in regards to taste, quality and excellent customer service, as compared to high-end retailers who charge $40+ for a small cake, for instance. What caught my eye about Diane's shop is that she makes custom cake truffles, in a variety of mouth watering flavors. Before you continue , be warned that these photos of Diane's cake truffles will make your mouth water and may even get your stomach growling, if you haven't eaten yet. :-)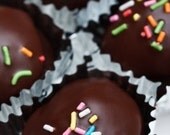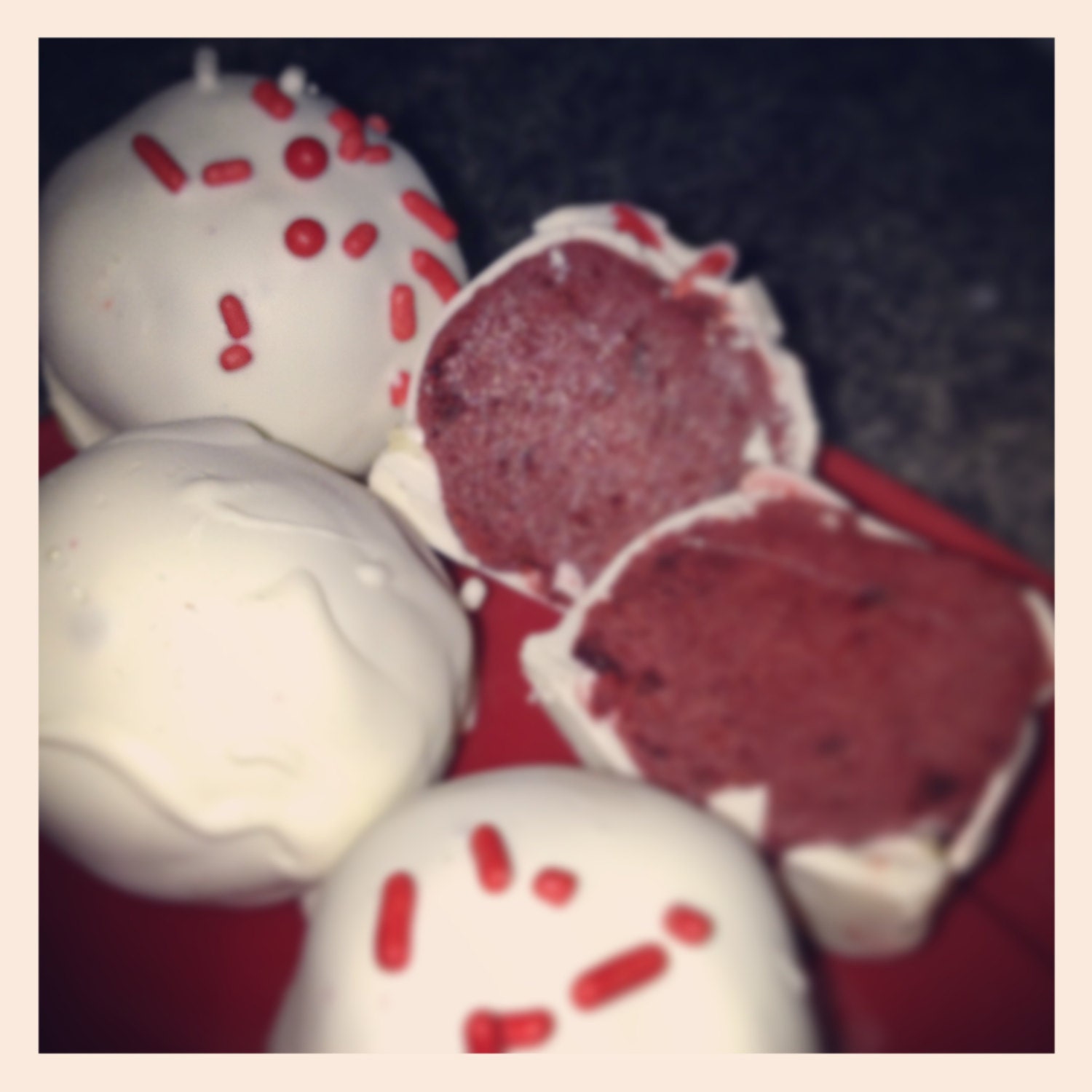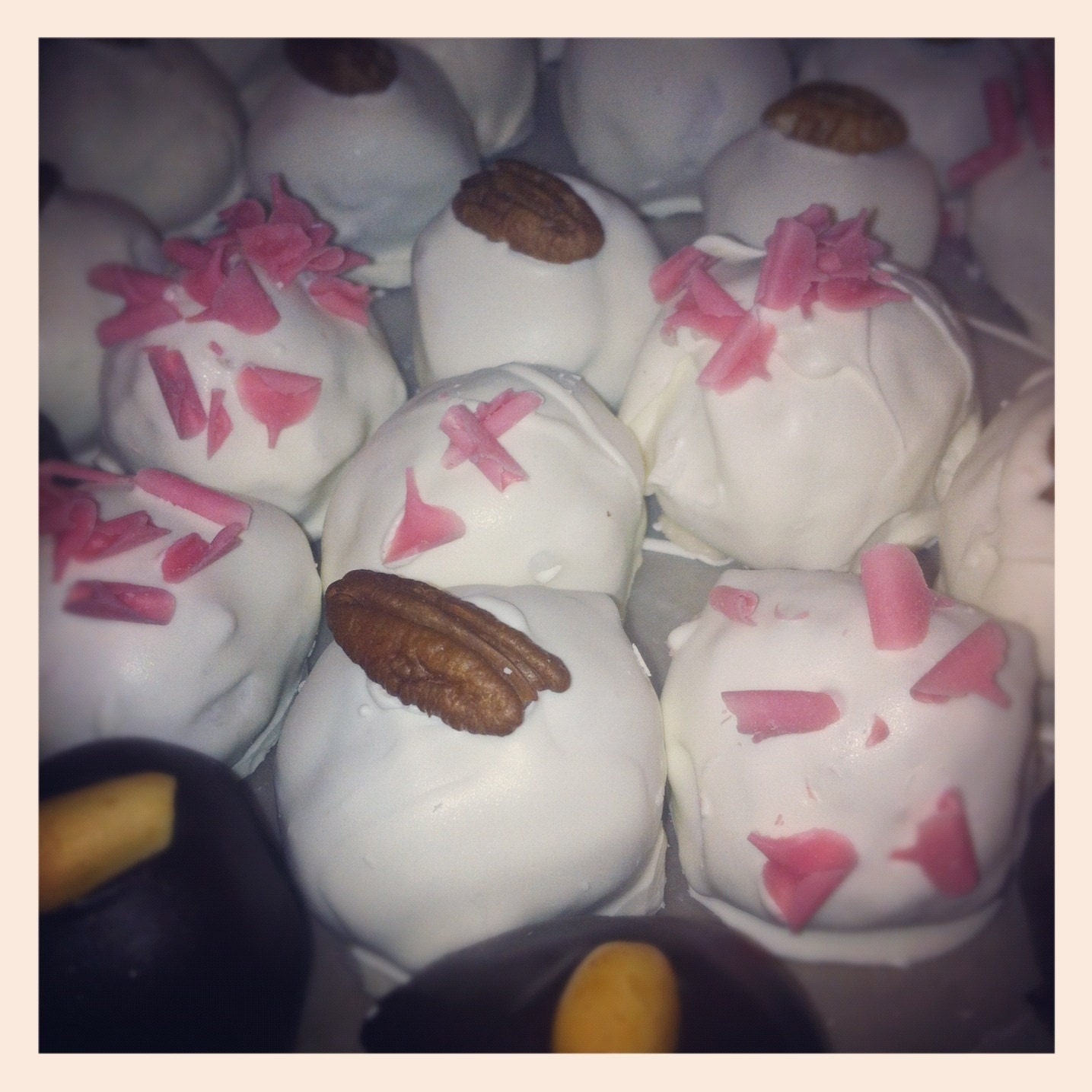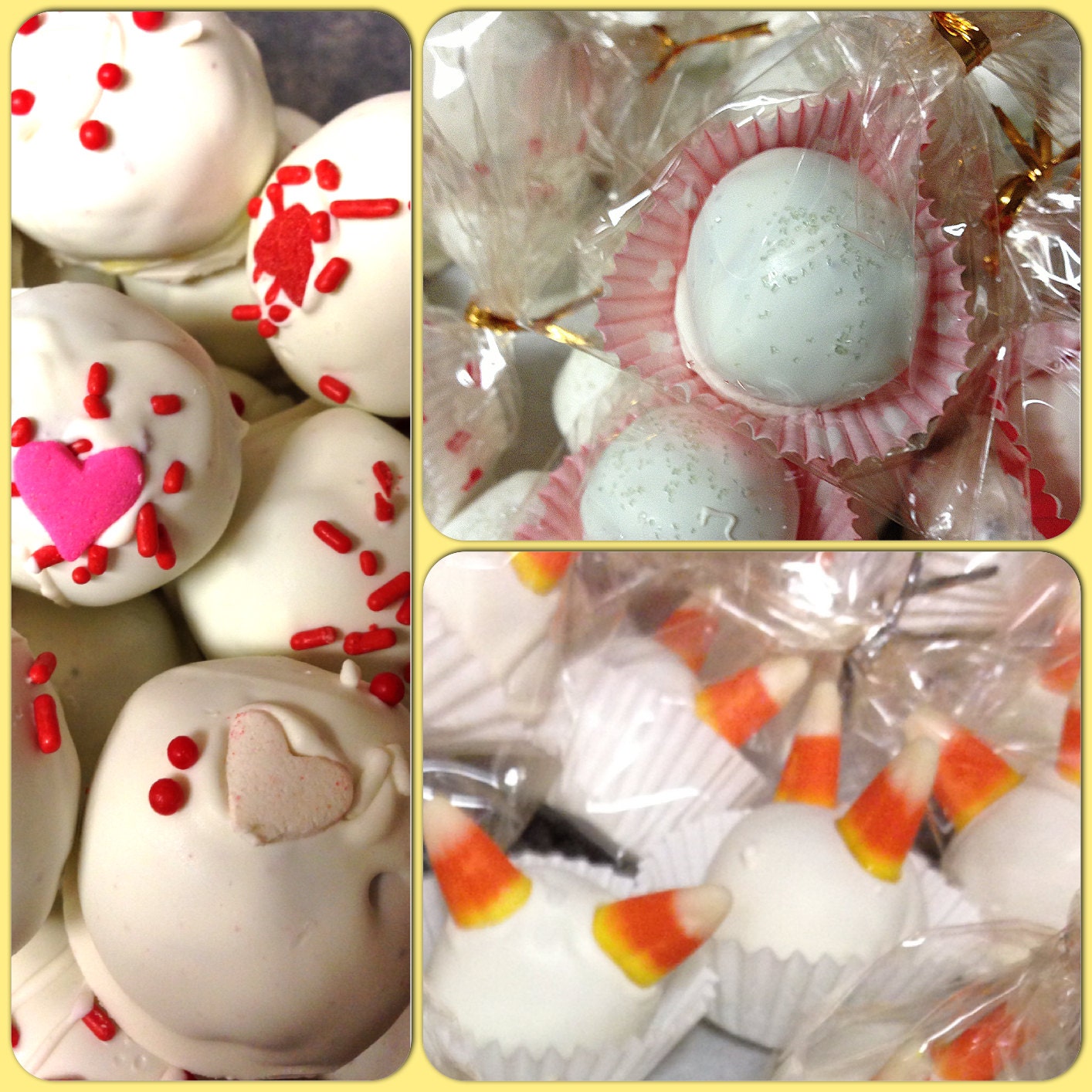 Don't these look delicious? I had the opportunity to try out four of Diane's custom cake truffle flavors with my family, and was blown away at just how good they tasted. Yes, they may be small (around the size of a golf ball). But, I have to say, you really do get full after just eating one. Well, if someone offered you second, I don't think you would say , "No." :-) I sure wouldn't! Out of the following flavors -- vanilla, vanilla coconut, chocolate cherry and white chocolate mint -- I have to say that my family especially loved the vanilla and chocolate cherry cake truffles.
With four cake truffles sent to review, I enlisted the help of my two daughters and husband to help me sample and give feedback on Diane's sweet treats. Even though my youngest doesn't talk yet, her grin and running to find a corner to eat her cake truffle in peace, let me know she liked it. As for Savannah, who sampled the vanilla cake truffle, she kept saying, "Mmm, so good, Mommy." And, once done, turned to me and asked for another. I told her we only had four to try, but would definitely be ordering more soon. :-) My husband, who is a fan of white chocolate sampled the white chocolate mint. Usually not a big fan of mint, he said he enjoyed this cake truffle as it was so fresh and moist (like it was just baked that morning) and that the mint was not overpowering. Instead, the mint lent a nice contrast to the creamy white chocolate. I snuck the Chocolate cherry (but ended up sharing this cake truffle with everyone, as it was that good. I, too, liked how it was moist and full of flavor, unlike other cake pops and truffles I have sampled in the past that are dry and need water to get down, or lack flavor altogether. Diane's custom cake truffles really are out of this world, and worth your consideration why trying to decide what to get your sweetie this Valentine's Day (or anytime of the year). I am even considering buying some for Savannah's upcoming 3rd birthday, to serve on a platter for little hands to enjoy. :-)
So, if you like sweets and fresh baked goods -- who doesn't? Why not pick up a sampling of Diane's custom cake truffles from the Flaky Baking Co. to share with your sweetie/family this Valentine's Day? Once you try these cake truffles, you will hooked and will want to order more, and send some to family and friends to enjoy! I am so glad I stumbled across the Flaking Baking Co. and had the opportunity to share these delicious cake truffles with my family.
Don't forget to follow Flaking Baking Co. on the following social media sites for news and special offers:
www.flakybakingco.blogspot.com
www.etsy.com/shop/flakybakingco
www.twitter.com/flakybakingco
www.facebook.com/flakybakingco
---BUY NOW---
So, what are you waiting for? Head on over to Diane's Flaky Baking Co. Etsy store today to browse her current selection of flavors available. The cut off date for Valentine's Day orders is Friday, Feb. 8th -- so, don't delay in ordering!
And, as a special offer for Inspired by Savannah readers, Diane is offering FREE SHIPPING on orders placed by 2/15, when you use promo code "INSPIRED" and place an order of 1-dozen or more cake truffles (note: this offer is not valid with the month club subscriptions).
Disclosure: I was sent samples from the vendor in order to write up an honest review. The views above are mine and mine alone.