Are your children blessed with curly hair? If so, you will want to know about Ouidad's line of hair care products made especially for them -- KRLY Kids. Even though my daughters don't have tight curls, they got a mix of my straight hair and their Daddy's curly locks. And, as their hairs gets longer, I am seeing the back of their hair filling in with cute little ringlets.
If your children have curly hair, then you know how difficult it is to shampoo and condition their hair without causing them to cry out when you try to wash out all the hair care products through their wet locks. And, what about trying to brush their hair while wet -- impossible to do without catching the brush on tangles and causing tears, right? Well, thanks to the KRLY Kids line from Ouidad, you don't have to worry about this anymore, as their products are gentle and will make brushing a breeze. You never thought you would hear that, right? It is true.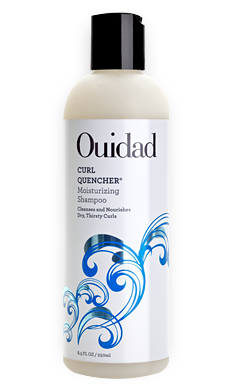 "Great for dehydrated curls, Curl Quencher Shampoo targets dryness with Vitamins A and E while the Pro-Vitamin B5 adds body and shine. Safe for color-treated, permed, and chemically straightened curls, its luxurious lather softens and protects parched hair while leaving it more manageable and easy to style. With its special formulation of chamomile, corn oil, vitamins and wheat amino acids, Curl Quencher leaves hair shiny and manageable. "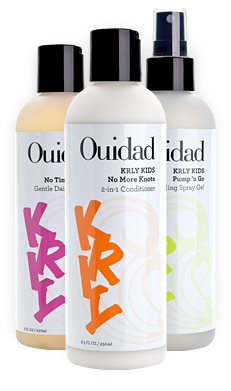 "Say goodbye to tears and tangles with Ouidad's exclusive line of products created specifically to cleanse, condition and style your child's delicate curls. KRLY makes bath time fun again for kids of all ages! "
Includes:
- 8.5 oz. No Time For Tears Shampoo
- 8.5 oz. No More Knots Conditioner
- 8.5 oz. Pump and Go Styling Gel
I was recently sent Ouidad's Curl Quencher Moisturizing Shampoo and their KRLY Kids No Time For Tears Gentle Daily Shampoo to try out with my daughters. The first thing I noticed while using these two shampoos is that it didn't leave a greasy or waxy feel to their hair, like some other children's products I have tried in the past. And, knowing that they were gentle enough and wouldn't cause tears if gotten into their eyes, was a huge relief to a mom with young children who hate having their hair washed. And, by the time the shampoos were rinsed from the their hair, they were left with clean, residue free hair, that was a cinch to brush. Once their hair was dry, I loved being able to run my fingers through their curls and not getting tangled up in them. Their hair was so soft and manageable, that I even found the girls pretending to be hairdressers and brushing each others hair. Ahh, the joys of sisterhood. :-)
So, if you or your children with curly hair, you will definitely want to check out the Ouidad line of hair care products designed specifically for the needs of people with curly hair.
---BUY NOW---
Disclosure: I was sent samples from the vendor in order to write up an honest review. The views above are mine and mine alone.