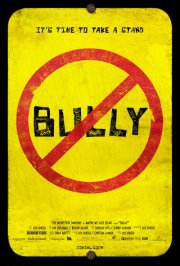 Synopsis:

"From Sundance Award-winning filmmaker, Lee Hirsch, comes a beautifully cinematic, character-driven documentary following five kids and families over the course of a school year. Offering insight into different facets of America's bullying crisis, the stories include two families who have lost children to suicide and a mother awaiting the fate of her 14-year-old daughter, who has been incarcerated after bringing a gun on her school bus. With an intimate and often shocking glimpse into homes, classrooms, cafeterias and principals' offices, this is a powerful and inspiring film that every educator, parent and teenager should see. "

My Thoughts:
This is a must see movie for any parent, as a way to open their eyes to the world of bullying that many children experience day in and day out. It is startling to get up some mornings to read in the newspaper about another children or young adult taking their own life due to bullying. Even though my girls are too young to have to deal with this, I am grateful for this movie, as it really opened my eyes to the struggles many children and young adults face. And, being an aunt to school age nieces and nephews, I now have a reason to talk to them more about bullying, and let them know that they can always come to me and my husband, their parents and even their teachers, if things feel like they are getting out of control, and you don't feel safe, or worse, you become depressed and contemplate suicide.
This documentary follows four families, all of whom have experienced bullying in some way. As I sat and watched the scenes of bullying on school buses, my heart sank and I had a upset feeling in my stomach, just thinking about the kids who have to suffer through this day and day out, and those who are too scared to speak up and ask for help. While some parents may be in denial about the effects of bullying or think it will happen to happen to their "happy go lucky" children, they are wrong. And, this movie does an amazing job at opening everyone's eyes to this growing situation seen elementary through high school.
Once a parent watches this film, they will want to gather their children around the television to watch this well put together documentary as a family, and then follow up with a discussion about bullying, in hopes your child will feel comfortable coming to you, if ever the need arises. Again, I am so grateful to have had the opportunity to watch this movie, and can't stop recommending to family and friends with children. This is one movie that should be shown in schools year after year, to help stop bullying in its tracks.
Disclosure: I was sent a copy of this movie from the vendor in order to write up an honest review. The views above are mine and mine alone.