Disney Consumer Products Celebrates Family, Friends, Love, and Fashion with Valentine's Day–Themed Books, eBooks, Cosmetics, Apparel, and More
Something for everyone on this special holiday
"Disney Consumer Products celebrates Valentine's Day with a line of products, featured below, including print and digital books of Minnie's Valentine and Small World: I Love You; Mickey and Minnie Mouse PJ Pal for Girls from the I Love Mickey Collection, which combines iconic Mickey and Minnie Mouse imagery with adorable hearts, chic polka dots, and romantic reds; Minnie XOXO cosmetics that will add glamour to any occasion; and designer apparel for the ultimate fashionista."

Valentine product highlights for loved ones of all ages include:
Minnie's Valentine – Love is in the air at the Clubhouse, but Mickey has no idea what to get Minnie for Valentine's Day. Minnie goes undercover, using a disguise to teach Mickey how to make a heartfelt Valentine's Day gift. Available in both print and eBook. Print ISBN: 1423107462; eBook ISBN: 1423146042; Price: $4.99; Ages: 4–7; Imprint: Disney Press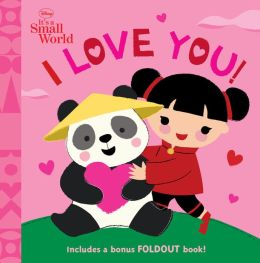 Disney's It's a Small World: I Love You – Celebrate love, friendship, and family around the world with this new casebound board book—just in time for Valentine's Day! Each page introduces a different character who teaches the reader how to say "I love you" in their language. At the back of the book is a pull-out accordion-style add-on that unfolds to reveal one long line of the characters from around the world, holding hands. Available only in print. Print ISBN: 1423165713; Price: $7.99; Ages: 0–5; Imprint: Disney Press

Phineas & Ferb: My Funny Valentine – An original Valentine's Day–themed Phineas and Ferb 8 x 8, complete with a sheet of paper stickers and foil on the cover, is perfect for young fans of the Disney Channel's hit animated series! Available in both print and eBook. Print ISBN: 1423124022; eBook ISBN: 1423155327; Price: $5.99; Ages: 4–7; Imprint: Disney Press

A Heart Full of Love Read-Along Storybook and CD – This Valentine's Day–themed storybook starring a Disney Princess character includes a read-along CD that features original movie voices and dazzling sound effects. Ideal for the younger set, this book and CD is a heartfelt holiday gift! Available in both print and eBook. Print ISBN: 1423134257; eBook ISBN: 1423171160; Price: $6.99; Ages: 3–7; Imprint: Disney Press

Disney Princess: True Love – Warm your heart with these beautifully illustrated stories about four Disney Princess characters and their true loves, just in time for Valentine's Day! Celebrate Rapunzel's birthday with Flynn Rider, hop along with Tiana and her frog prince, get to know the Beast with Belle, and help Aurora plan a surprise for her prince at the royal ball! Available only in eBook. eBook ISBN: 1423188160; Price: $4.99; Ages: 3–7; Imprint: Disney Press

Mickey and Minnie Mouse PJ Pal for Girls – Wear a smile all night long with our classic sweethearts, Mickey and Minnie, and their heart-covered PJ Pal. These snuggly pajamas are sure to inspire only the happiest dreams in 100% cotton comfort! Price: $16.50

Mickey Mouse iPhone 4/4S Case – The reception will always be sweet when you use this Mickey-themed iPhone case with sparkling gemstone-studded heart. You'll just love how it decorates and protects your precious electronic equipment. Price: $24.50

For the beauty lovers, Target has exclusive products to glam up any occasion:
Fragrance Shimmer Spray – Spray some amour into your beauty routine with a sweet fine mist that's sure to make any occasion special. MSRP: $4.95
Ready-to-Wear Eyeshadow Collection – Four shades offer easy-to-apply, buildable, blendable color, fit for your endless, fashionable look du jour. MSRP: $3.95

Runway-Ready Lip Collection – Gloss-on your choice of four purse-perfect glistening shades and delicious scents to show off that picture-perfect pout. Flavors include: Brulee Kiss, Pop Star, Sweet Sparkle, and Cutie Pie. MSRP: $7.95

Glitz 'N' Glam Illuminating Blush – This lightweight, fresh tint will add energy to any rendezvous. MSRP: $4.50

Cute Carry-All Cosmetic Bag – Convenient pocket, charming zipper pull, trendy colors, and romantic bow make the bag ideal for girls on the run—or the runway! MSRP: $7.95

And for the fashionistas, designer Valentine apparel includes:
Mickey Mouse Sweatshirt by Marc Jacobs – Short-sleeved crop-top sweatshirt with black and white sequin embroidered Mickey Mouse logo. Available in black and ivory. MSRP: $995.00
Disney Bedtime Collection by Betsey Johnson – Minnie Mouse is all dolled up in jewels and her best bow for this sweet sleep collection. Collection includes sleep sets, sleep shirts, boy shorts, a robe, and a fleece hoodie and pant set. MSRP: $12.00–$79.00

About Disney Consumer Products
Disney Consumer Products (DCP), the world's largest licensor, is the business segment of The Walt Disney Company (NYSE:DIS) and its affiliates that extends the Disney and Marvel brands to merchandise ranging from apparel, toys, home décor, and books to food and beverages, stationery, electronics, and fine art. DCP develops Disney entertainment franchises into 365-days-a-year product opportunities at retailers worldwide. Through the magic of Disney brands and franchises, DCP aims to inspire the imagination of people around the world by delivering innovative and engaging product experiences. DCP is comprised of three businesses: Licensing, Publishing, and Disney Store. The Licensing business is aligned around seven strategic brand priorities: Disney Baby & Classic Characters, Disney Media Networks & Games, Disney & Pixar Animation Studios, Disney Princess & Disney Fairies, Disney Live Action Film, Marvel, and Lucasfilm. Disney Publishing Worldwide (DPW) is the world's largest publisher of children's books, magazines, and digital products. Disney English is DPW's English language learning business, which includes over 40 Disney English learning centers across China and a supplemental learning book program. DPW's growing library of digital products includes best-selling eBook titles and original apps. The Disney Store retail chain operates across North America, Europe, and Japan with more than 350 stores worldwide. Disney Store carries high-quality products, including exclusive merchandise tied to key Disney and Marvel entertainment offerings. www.DisneyStore.com and www.DisneyStore.co.uk are Disney's official online shopping portals. For more information, please visit Disney Consumer Products or follow us at www.YouTube.com/DisneyLiving, www.Facebook.com/DisneyLiving and www.Twitter.com/DisneyLiving.