One of the things I love most about being a mom is being able to share some of my favorite hobbies with my daughters, which include baking and cooking. Savannah is getting older and more involved when it comes to helping me in the kitchen. We have even made a point to have a night of baking each Friday, where she will make something with my husband or I. Her favorite things to make are cupcakes and cookies, so I am always looking for great cookbooks that are kid-friendly, to pull recipes from. And, when I am not baking with my daughters, I love spending time in the kitchen and trying out new recipes, especially Southern inspired dishes. With that being said, I have compiled a selection of some of my favorite cookbooks that I had the opportunity to review this year, and can't get enough of.

The Big Book of Babycakes: Cupcake Maker Recipes, Homemade Bite-Sized Fun! by Kathy Moore and Roxanne Wyss
Summary:
"The ingenious invention of the BabycakesTM Cupcake Maker has been met with unprecedented popularity
The incredible demand has prompted another book on the topic — more in-depth, and with slightly more sophisticated flavors that reflect both current cupcake trends and old-fashioned delicacies. It's a complete and wide-ranging cookbook that still packs in all of the fun of the first book, but also features specialty recipes for holidays, special occasions, entertaining, cooking for and with kids, smaller families, gluten- free diets and vegan diets. In addition, due to strong consumer feedback, there is a larger selection of savory recipes, including quiches, lunch and dinner pies, biscuits, appetizers and finger foods.
Dozens of large step-by-step photos depict decorating ideas and skills, providing easy-to-follow inspiration and ideas. They'll show how to create various cupcake decorations, bake pies and phyllo cups, and more! Both novice and experienced bakers will delight in these photos and clear instructions.
Packed with fun, flavor and delectable cake morsels of every imaginable taste, color and decoration, the incredibly creative chapters offer unique ideas for countless occasions. They'll take you from breakfast and after-school snacks to bridal showers and elegant parties."
My Thoughts:
This cookbook came in handy last month when we had a little party for Arabella's first birthday. Prior to her birthday I had received a babycakes cupcake maker for my birthday from my parents, as they thought I would enjoy making these popular mini cupcakes treats with Savannah in half the time. One of the things I look for foremost in a cookbook is pictures that accompany the recipes, and this cookbook is chock full of them.
I had a blast trying out a handful of the recipes before settling on the Gingerbread cupcakes and the Classic Waldorf Astoria Cupcakes for my daughter's birthday party. And, since then, I have enjoyed making such recipes as Italian Grinder Hand Pies, Caramel Applesauce Muffins and Strawberry Smoothie Cupcakes, which were quick and easy to create, and tasted so good.
If your family enjoys mini treats and using your babycakes cupcake maker to experiment with new recipes, why not pick up this cookbook and take your baking to the next level with fun and delectable treats? Depending on the occasion, you are sure to find recipes that will make them more memorable. :-)
Holiday Slow Cooker - Delicious Recipes for a Year of Hassle-Free Celebrations By Jonnie Downing
Summary:
"Preparing a big meal to enjoy with friends and family is one of the best parts of celebrating holidays. But it can often be overwhelming! Now with this book and a trusty slow cooker, it's a snap to craft perfect holiday dinners with minimal stress. Featuring more than 100 delicious recipes for every festive occasion — including Thanksgiving, Hanukkah, Christmas, Easter, and many more — this book will become an indispensable part of holiday traditions. In addition to sophisticated recipe ideas, the book is stuffed with helpful tips for using a slow cooker to get the most out of any kitchen. Free up space on the stove by cooking buttermilk mashed potatoes or cornbread stuffing in the slow cooker on Thanksgiving Day — they will keep warm and moist while other dishes are being prepared. Or keep a delectable chocolate fondue bubbling in the slow cooker for a romantic Valentine's dinner when the moment's right for a sensual dessert. From rich meatball appetizers and cheesy dip for New Year's Eve to tender brisket and matzo ball soup for Hanukkah, this is the definitive guide to tasty, time-saving recipes for any celebration."
My Thoughts:
I was so excited to receive this small cookbook prior to Thanksgiving, and had the opportunity to try out half a dozen side dishes, that were all made int he crock pot. Who knew that you could make fresh whipped mashed potatoes and a moist cornbread stuffing in the crock pot. What I loved most about these crock pot recipes, besides never seeing them in other crock pot cookbooks that I own, is that they were so easy to prepare and tasted delicious. Everyone around the table kept raving about how good each of the side dishes I made from this book, as they reached for a second (and third) helping.
And, for Christmas morning, I plan on serving a nice breakfast quiche from this book, before our ham dinner. Family has already requested that I made the potatoes again. Another popular recipe that I have made time and again from this cookbook is the squash bisque, which became a favorite when the girls were sick last month. It was easy to get down and was full of flavor.
So, if you are a fan of crock pot cooking. Which busy mom isn't? Then, you will love the "Holiday Slow Cooker," which offers recipes for all the popular holidays, including Valentine's Day, Easter, Cinco de Mayo, 4th of July, Thanksgiving and Christmas. You, too, will be making recipes over and over again after your family enjoys them for the first time. And, if you do pick up this cookbook, make sure you try the pumpkin butter recipe -- it is out of this word! :-)
----
DESSERTS FROM THE FAMOUS LOVELESS CAFE By Alisa Huntsman
Hardback, 232 pages
ISBN: 9781579654344 (1579654347)
Summary:
"Delicious Southern sweets and treats from a Nashville favorite.
Renowned for its Southern charm and superb comfort food, the Loveless Cafe in Nashville,Tennessee, serves some of the best desserts below the Mason-Dixon line. Aficionados of country cooking travel from near and far to sample the restaurant's extraordinary sweets.
In Desserts from the Famous Loveless Cafe, pastry chef Alisa Huntsman takes the most beloved Southern ingredients and flavors—from sorghum to buttermilk, persimmons to pecans—and masterfully combines them to create desserts with a modern appeal. Big Momma's Blackberry Jam Cake, Honey Chess Pie, Bourbon Peach Shortcake, Blueberry Skillet Cobbler, Coconut Chews, and Lady Lemon Bars are just a handful of the more than 100 irresistible recipes included in this ultimate guide to Southern desserts. Easy to make and even easier to eat, all of the favorite Loveless dessert recipes are included. With a foreword by bestselling author Lee Smith, essays extolling the virtues of the Southern palate, and full-color photos showing the delicious confections, this book will help anyone who can't travel to Nashville or wait two hours for a table at this popular restaurant enjoy a taste of the Loveless at home."
My Thoughts:
I became a fan of the Loveless Cafe when I dined there with my brother in 2000 when he went to Nashville for the annual Fan Fare event for country music fans. We had been hearing locals and friends rave about great this cafe was, especially the homemade jams and biscuits. So, we plugged the directions and headed on our way there. As soon as we walked into the Loveless Cafe, we both felt a sense of warmth, as this felt like a great family restaurant. And, once we dug into our overflowing plates, we were in love, and could see why so many people return here -- some even a couple times a week at least. :-)
For me the best part of my dining experience at the Loveless Cafe was the desserts. I told him brother that the next time we went back, which was a few days later, that I wanted to simply dine on their desserts, and I did! I felt like I was in heaven, and couldn't get enough of the assortment of homemade desserts that filled our table. So, when I heard that there was a cookbook from the Loveless Cafe, entitled "Desserts from the Famous Loveless Cafe,
" I had to get my hands on a copy and see if it contained some of the recipes I enjoyed during my many trips to the Loveless Cafe over the years. I have traveled all throughout the South, but haven't found a place that serves up great tasting cobblers, pie and puddings, better than the Loveless Cafe.
Like I have said in previous cookbook reviews, I read them like they are novels, from cover to cover, and did this with the "Desserts From the Famous Loveless Cafe." I should have eaten before flipping through this cookbook, as the pictures, along with the recipe titles will make your mouth water and get you hungry. As I flipped through the pages, I marked all the desserts I wanted to try, and couldn't wait for the weekend to get into the kitchen to try some of these recipes out. First up was the caramel apple cake, followed by the muddy fudge pie. Both were easy to make and went over well with family and friends. By the end of the day, we didn't have any leftovers of each, as guests asked to taste a few slices home with them to enjoy later.
And, this past Thanksgiving, I made the vanilla buttermilk pie, Big Momma's Blackberry Jam Cake and Banana Nut Tea Bread to serve for dessert. You should have seen the look on everyone's faces as they walked around the table to their seats, admiring these desserts. In a matter of minutes, everyone had a plate full of each dessert to sample. And, once the last bite was taken from a second helping, everyone had a smile on their faces. This is definitely one cookbook full of tasty desserts that you will get your money's worth, and one you will reach for time and again when asked to make a dessert for a party, or just because.
----
Fire in My Belly - Real Cooking by Kevin Gillespie
U.S.:
$40.00
Canada:
$47.00
ISBN:
9781449411435
Format:
Hardcover
On Sale:
October 16, 2012
Summary:
'"Cooking is figuring out the great qualities of any food and making those qualities shine." That's the inspiring message of
Fire in My Belly
by
Top Chef
fan favorite Kevin Gillespie.
Fire In My Belly
celebrates good ingredients with more than 120 hip, accessible recipes presented in a cutting-edge design. This book taps into our national obsession with knowing where our food comes from. Kevin's southern charm, passion, and funny stories guide readers through one-a-kind chapters, like "Foods You Thought You Hated," "When I Want to Eat Healthy," "My Version of Southern Food," "World Classics Revisited," and "Junk Food."
Fire in My Belly
shows cooks what to do with fresh farmers' market foods while providing a backstage pass to the life of a rising culinary star'
My Thoughts:
If you love real Southern cooking then you will love Fire in My Belly by Kevin Gillespie. I have purchased a handful of Southern inspired cookbooks after visiting the South back in 2003, and returning a couple times a year for the beautiful scenery, but mainly for the good 'ole home cooking. But, I have to say this cookbook is the best I have seen and even consider it my Southern cooking bible if there were one. :-) It is full of tasty recipes that will you have feeling the warmth of the South as you sit down to dine with your family. Since welcoming our daughters in 2010 and 2011, we haven't had a chance to make it back to the South, so I have to rely on recipes I find to try and recreate some of our favorite Southern dishes.
Here is one of my family's favorite, which is popular in many restaurants throughout the South -- but, none taste as good as this one --
Warm Banana Pudding
My great-grandmother on my mother's side always hosted Thanksgiving when I was a kid. It was a family reunion with 70 to 100 people at her house in Fayetteville, Georgia. There was always banana pudding. But there was only one big baking dish of it, and it was hidden somewhere in the house. When it was announced that it was time to look for the banana pudding, whoever found it got the first bowlful. There was never enough for everybody. When I was about eight years old, watching TV in my uncle's basement apartment downstairs, I opened the cupboard to get a water glass and saw the banana pudding. I climbed on the counter and pulled it down. This was hours before the main meal. I knew it was well before the time to hunt for the pudding, but I did the only thing an eight-year-old could do. I ate the whole damn thing! This was the first time I ever tasted the banana pudding because I was way down the family totem pole. My mom and I were joking about this incident a few years ago, and I asked her, "Who has the recipe?" She said it died with my great-grandmother. But the dish was pretty clear in my head after eating the whole thing that one time. The pound cake. The vanilla pudding from scratch. The meringue. I added a couple of things: I toast the pound cake so it doesn't absorb as much pudding. And I brush brewed coffee over the cake because I love coffee and bananas together. Otherwise, this is built from my flavor memory of my great-grandmother's banana pudding. My mom tells me it's spot-on.
Feeds About 12 Folks
Half-and-half - 2 cups
Whole milk -- 2 cups
Vanilla bean -- 1, split
Vanilla extract -- 1 1/2 teaspoons
Eggs -- 8 large
Sugar -- 2 1/2 cups
All-purpose f lour -- 1 cup
Salt -- 1 teaspoon
Butter -- 6 tablespoons, cut into chunks
Pound cake -- 1 store-bought loaf, about 12 ounces
Strong brewed coffee -- about 1/2 cup
Bananas -- 8 to 9 very ripe ones, peeled and cut into 1/2-inch coins
Cream of tartar -- 1/2 teaspoon
1. Preheat the oven to 375°F.
2. In a large saucepan, combine the half-and-half, milk, vanilla bean and 1/2 teaspoon of the vanilla extract and heat over medium-high heat until bubbles start forming around the edges of the pan, about 4 minutes. Pull the pan from the heat. Fish out the vanilla bean and use a paring knife to scrape the vanilla beans and pulp from the pod into the milk mixture. Discard the pod.
3. Separate the egg yolks from the whites using the three-bowl method: one small bowl to separate the eggs over, one large bowl for the yolks, and a third bowl to collect all of the whites. Crack one egg at a time, straining the white into the small separating bowl and placing the yolk in the yolk bowl. If the yolk did not break, transfer the white to the white collection bowl. This method ensures that no broken yolk gets into the main batch of whites. If you break a yolk, you'll only lose 1 white instead of the whole batch. For meringue, it's imperative to have whites with absolutely no yolk at all or the whites won't whip up properly.
4. Add 2 cups of the sugar to the yolks and whisk until very thick and light yellow, about 1 minute. Pour the flour into a strainer over the yolk bowl and shake the flour into the yolks. Whisk the flour and salt into the egg yolks until smooth. Slowly whisk 3/4 cup of the milk mixture into the yolk mixture to gradually warm the eggs so they won't scramble; this is called tempering. Whisk all the yolk mixture into the milk mixture and return the pan to medium heat. Cook the mixture until it thickens, about 8 minutes, stirring nonstop. There will be some lumps, which is fine. Remove the pan from the heat and whisk in the butter, one piece at a time, until it's all incorporated. Blend the pudding with an immersion blender for 1 minute. Press the pudding through a fine-mesh strainer to remove any remaining lumps.
5. Slice the pound cake 1/4 inch thick and arrange the slices in a single layer on a baking sheet. Toast in the oven until they are lightly browned, about 6 minutes. Flip the slices and toast again until lightly browned, about 4 minutes more. Remove the toasted cake from the oven and brush both sides with the coffee.
6. Spoon about 11/2 cups of the pudding into the bottom of a 2-quart deep casserole dish. Layer the pound cake and bananas on top of the pudding and repeat the process, ending with a layer of pudding.
7. In a small bowl, whisk the remaining 1/2 cup sugar and cream of tartar to combine. Whip the egg whites in a mixer fitted with a whisk attachment until they are thick and frothy, about 2 minutes. With the mixer running, slowly add the sugar mixture to the egg whites. Add the remaining 1 teaspoon vanilla extract and beat until the mixture holds soft peaks when the whisk is lifted.
8. Mound the meringue on top of the pudding and spread to completely cover and seal at the edges. Using the back of a spoon, swirl the meringue into peaks. Bake until the peaks are browned, about 5 minutes. The top should be brown while the center of the meringue stays soft and creamy. Let the dish cool for at least 15 minutes. Serve warm.
Source: Recipes from Fire in My Belly by Kevin Gillespie with David Joachim. Photographs by Angie Mosier. (Andrews McMeel; October 2012; $40.00/Hardcover: ISBN-13: 978-1449411435). http://www.andrewsmcmeel.com/.
Makes your mouth water, huh? Mine is just thinking about it, and knowing firsthand how delicious it is. Other family favorites from "Fire in My Belly" include One-Pot Hog Supper, Stuffed Rtugers Tomatoes with Savannah Red Rice and Creamed Shrimp and Slow-Cooked Ribs with Chili-Lime Butter. So, if you are a fan of Southern fare, you will definitely want to pick up a copy of this cookbook to add to your collection. Or, if you are looking for the perfect holiday gift for that cookbook lover in your life, they will enjoy this cookbook, and mark up the pages as have I, with all the recipes they want to try and share with their family. :-)
----
150 BEST GRILLED CHEESE SANDWICHES
By: Alison Lewis
SBN-10: 0778804127
ISBN-EAN: 9780778804123
Number of Pages: 248
Published Date: Oct 2012
Summary:
"Creative and inventive recipes for everyone's favorite comfort food.
The classic grilled cheese sandwich is now one of the biggest trends in cooking and is enjoying an incredible resurgence in popularity. Top bloggers, NPR and television networks report that grilled cheese sandwiches are one of the top food trends to watch out for — many have even said that "grilled cheese is the new burger." Specialty restaurants are popping up all over the country, and many established chefs are tweaking their menus to include their take on this beloved comfort food.
These fabulous recipes all begin with the theme of the grilled cheese we all love and then throw in a few creative twists to show how incredibly versatile this sandwich can be. They're uptown, downtown, simple, gourmet and seasonal, and each recipe showcases Alison's culinary creativity. And the sandwiches aren't limited to just lunch or dinner — there are recipes for snacks, appetizers and even desserts. This collection is perfect for the home cook who wants tasty, economical meals featuring fresh ingredients.
Best of all, grilled cheese sandwiches are easy to make, so they're ideal for college students, beginner cooks and even kids who want to help out in the kitchen. Whether you like to enjoy your sandwich with soup in the winter or with seasonal summer produce, these classic and new recipes fit the bill.
Alison Lewis is a nationally known recipe developer, television and social media food spokesperson and consultant, mom food blogger, food educator, food photographer/stylist and nutritionist, and is president of Ingredients, Inc., a food consulting company in Birmingham, Alabama."
My Thoughts:
The one comfort food that I always turn to on a cold day, when I am looking for a quick pick me up, or is my go-to meal when I need to put something on the table at dinner is the good 'ole grilled cheese sandwich. Over the years, I have experimented with this classic sandwich and have added things like apple slices, jams, avocado spread and bacon, just to name a few. Just by adding a few other ingredients to the bread, cheese and butter, really does take this family-favorite sandwich up a notch. Who knew that a grilled cheese sandwich could be so versatile and be eaten for breakfast, lunch, dinner or even as a snack. Well, thanks to this cookbook, filled with easy to make recipes, you will be turning the classic grilled cheese sandwich into a masterpiece, that will wow even the youngest of fans. :-)
Some of my favorite twists on the classic grilled cheese sandwich, which are included in this cookbook include: Grilled cheese pizza sandwich, prosciutto-feta grilled cheese, grilled Southern Barbecue sandwich and grilled peaches, mozzarella and peach salsa sandwich. Getting hungry yet? You will once you start flipping through this cookbook. And, with a warm bowl of tomato soup on the side, it would make for a great winter meal to warm your belly and soul. :-)
----
Clean Eating for Busy Families by Michelle Dudash
Get Meals on the Table in Minutes with Simple and Satisfying Whole-Foods Recipes You and Your Kids Will Love-Most Recipes Take Just 30 Minutes or Less!
Format: Paperback, 176 Pages
Publisher: Fair Winds Press
Summary:
"

All moms know what a struggle it can be to get dinner on the table night after night—you want to prepare healthy and meals for your family, but picky eaters, busy schedules, and way-too-long cooking times always seem to stand in your way.
Clean Eating for Busy Families takes the challenge out of putting delicious food on the family table on a nightly basis by providing you with a clear plan for dinner success. With streamlined weekly grocery lists, simple-yet-delicious recipes, and practical tips for healthy family eating, you'll find it a cinch to trade in that uninspired takeout for wholesome meals that don't just put your tummy to ease, but your mind too.
It's Quick: From easy sautés and casseroles, to slow cooker meals, to pan-less grilling, all the recipes you'll find inside list both mode and length of cooking time, so there's no time wasted trying to figure out a time plan or what works best for your schedule. Plus, most recipes can be prepared in thirty minutes or less!
It's Clean: The ever-growing "clean food" movement, which focuses on a healthy, whole foods-based approach to eating, lies at the foundation of this book, so you can be sure you're feeding your family the very best. From wholesome ingredient lists to nutritional analysis on every recipe, you can feel confident that every meal you prepare is both nutrient-rich and calorie-conscious.
It's Green: Featuring eco-friendly tips, along with information on how to go green while shopping and cooking, you'll find it a cinch to keep your family and the planet happy. You'll also find the peak season noted on every recipe, as well as substitutions for ingredients that are out of season, so you can adapt according to what works best for you.
And most importantly…it's delicious! From Orange Peel Chicken & Broccoli Stir-fry with Brown Rice to Baja Fish Tacos with Pico de Gallo and Summer Berry Slump with Vanilla Greek Yogurt, you'll enjoy night after night of delicious home cooking—without any of the hassle. Get started creating new and exciting dishes for your family today!"
My Thoughts:
As a busy mom on the go, I am always looking for ways to simplify meal planning and preparation. I find that if a recipe is too complicated, takes too long to cook, or needs more than 8-10 ingredients, then it will not work with my family. With two girls, ages 2 and 1, I don't have the luxury to spend more than an half hour in the kitchen prepping a meal, only to wait another hour or two to have it cook up. The girls usually grow restless and I have to make a quick stand-in like mac and cheese just to tide them over. But, thanks to this family-friendly cookbook geared towards parents who can't spend a long time prepping meals, but don't want to resort to unhealthy or frozen alternatives, mealtime will not only be made easier, but the meals you put on the table will taste amazing.
My oldest daughter, Savannah, is the picky eater in the house, and usually requires me to make a few options in hopes of her enjoying one of them at dinner time. But, I have found that all the recipes I have made from this cookbook she enjoys, and at times asks for seconds. Some of our family favorites, which are easy to prepare in the AM while the girls are sleeping and can be cooked all day in the crock pot include "Slow Cooker beef and Vegetable Tacos" (a finger food favorite amongst the girls) and "Steve's Famous Tailgate Chili with Kidney Beans." The desserts in this cookbook are also delicious and make for a sweet treat after dinner.
Now, each week when I sit down to prepare my upcoming week's menu plan, I have this cookbook by my side and flip through the marked recipes, and add 2-3 to my menu. And, when we all sit down to eat, everyone enjoys having a home cooked meal that didn't take hours to make. I love it!

----
The Dead Celebrity Cookbook Presents Christmas in Tinseltown by Frank DeCaro
Publication Date: 10/1/2012
Summary:
"Now you can put some game in your holiday ham with The Dead Celebrity Christmas Cookbook. When it comes to holiday fun, the stars of Hollywood's Golden Age knew how to make merry – on stage, on screen, and especially on the dinner table. With The Dead Celebrity Christmas Cookbook – the follow-up to his international sensation The Dead Celebrity Cookbook – Frank DeCaro shows how to put the kitsch into your holiday kitchen as he salutes a quirky collection of celebrities who are gone, but fondly remembered every year at Christmastime.
Filled with pop culture ruminations and genuine (and genuinely delicious) recipes of the stars, The Dead Celebrity Christmas Cookbook hails such movie classics as It's a Wonderful Life and White Christmas, gives three cheers for such time-honored animated gems as Frosty the Snowman and How the Grinch Stole Christmas, and puts such offbeat offerings as The Star Wars Holiday Special in their rightful place – the dining room!
Serving up such chapters as 'Miracle Whip on 34th Street,' 'Eat Meat in St. Louis,' and 'Munch of the Wooden Soldiers,' DeCaro dishes up an attic-full of culinary delights garnished with his signature wit and cultural observations. Feast on such temptations as Peggy Lee's Holiday Halibut Casserole, Burl Ives's Stuffed Leg of Goat Hawaiian, Nat 'King' Cole's Ham Loaf, Barbara Stanwyck's Christmas Kipfels, Dinah Shore's Fruitcake, and Spike Jones's Molasses Jumbles. Even the Grinch himself – Boris Karloff – shares a recipe! Wash them all down with Edmund Gwenn's Christmas Cup and John Lennon's Cocoa. With The Dead Celebrity Christmas Cookbook, you also can decide which makes for a better New Year's Eve, Guy Lombardo's Lobster Lombardo or Dick Clark's Spicy Turkey Meatloaf. There's nothing auld about them!
The book is the ultimate hostess gift, and one that won't get buried in the cupboard. Placing the accent on mirth – and casting a forgiving eye toward Santa's girth – The Dead Celebrity Christmas Cookbook promises to get even the biggest Scrooge in the holiday spirit and liven up any gathering. It'll have you saying your 'ho, ho, ho's' in true Hollywood style, this year and for many years to come."
My Thoughts:
Looking for some recipes with fun names to spice up your Christmas party this year? Then, you will want to pick up this cookbook which pays tribute to deceased celebrities and popular holiday movie classics. Now you may wonder how good a cookbook can be if it features those who are no longer with us, but after you start to flip through the pages and get a chuckle out of the names, you will see that these are actual recipes that will become a hit at your party. Not only will people be raving about how good each dish is as they reach for seconds, but you will have a great conversation piece when you tell the about the cookbook you got the recipe from.
Just to give you a feel for the type of recipes you will find in this holiday inspired cookbook, here are some of my family's favorites, which I have made on several occasions (long before the Christmas season):
Joan Blondell's Buffet Ham (which I will be making for Christmas dinner)

Shirley Booth's Pumpkin Bread

Harvey Korman's Chicken Stew

Edgar Bergen's Swedish Meatballs

Bing Crosby's Sugar Cookies

Wendell Corey's New England Boiled Dinner

Gene Autry's Texas Chili
And, tonight I am making "Dick Clark's Spicy Turkey Meatloaf." I can't wait to taste it, as it smells so good cooking right now.
----
The Primrose Bakery Book by Martha Swift and Lisa Thomas
Published: 29 September 2011
Summary:
"With a sweet treat for every occasion, this is a tempting window onto the world of Primrose Bakery.
Primrose Bakery is a way of life. From croissants for breakfast to layer cakes at tea, it has the whole day covered. And of course their signature buttercream cupcakes are delicious any time of day!
With over 80 inspirational and easy-to-follow recipes for cupcakes, layer cakes, biscuits, loaves and much more, as well as tips like perfect icing, The Primrose Bakery Book is a baking bible. It is also a gorgeously quirky window onto the very special day-to-day world of the Primrose Bakery."
My Thoughts:
I love picking up and adding cookbooks from popular bakeries from all around the world. Some favorites include those in New York City and the UK. Even though the folks in the UK use different measurements and at time different ingredients that are not common in local grocery stores, they are well worth checking out and making. I was first introduced to bakes good from London when a friend had some shipped over for the holidays one year. We had meant in college, as she was an international student from London, and was homesick during the holidays. So, while staying with my family, she had her folks pay to have some of her favorite sweets shipped to her. The first thing that caught my eye with the pastries that were sent were how dainty they looked. You could tell that time and effort were put into making and decorating them. And, when I took a bite, I was at a loss for words. I could see how my friend would be missing these desserts, especially around the holidays.
So, from there on out, I have made it a point to collect cookbooks like this one from bakeries all around the world. Like I do with all my cookbooks, I read it from cover to cover, as if it were a novel, and got excited with each page I read, as the desserts sounded amazing. I only missed I had a few extra hours in each day to make a few, along with a waistline that wouldn't grow. :-) Cookbooks like this one make me enjoy baking at home and seeing the final product, as they look like something yo would find in an upscale bakery. And, the tastes are hard to describe, as they are so good.
Even though I haven' thad a chance to try out all 80 recipes from this cookbook filled with cakes, cupcakes, breakfast treats, loaves and more, the following are a few I have tried and enjoyed:
Cherry Chocolate Cupcakes

Apple Cake

Maple and Pecan Cupcakes

Chocolate and Marshmallow Cupcakes

Marble Loaf Cake

Strawberry Cake
If you are a fan of bakery cookbooks, then you will want to check out this cookbook, which is filled with tasty treats, and beautiful illustrations of each and every recipe :-)
----
300 SENSATIONAL SOUPS By: Carla Snyder & Meredith Deeds
Summary:
"The definitive collection of recipes for soup lovers everywhere.
A good soup nourishes the heart as well the stomach, spreading a feeling of satisfaction and contentment. Hot soup is warming on a winter day, while cold soup is just as welcome in the heat of summer.
From comforting creamy chicken and rice soup to refreshing gazpacho, 300 Sensational Soups offers something for every season, mood and occasion. There are 50 international soups, including Vietnamese pho, Italian wedding soup, and Middle Eastern harira. Soups from the sea include such favorites as snapper in Asian broth with habañero and shrimp, and shrimp and pea soup with lemongrass. Each recipe also includes tips and techniques along with garnishing ideas. As well, there are many creative variations and serving suggestions.
There is also the Just (Soup) Desserts chapter, which features 20 dessert soups, including coconut soup with mango fritters, chocolate soup with brownie croutons, and chilled cherry soup with crème anglaise swirl.
With 300 recipes to choose from, ranging from everyday fare to elegant dishes for entertaining, 300 Sensational Soups offers home chefs a perfect bowl of soup every time."
My Thoughts:
One of my favorite things to make once the cold weather sets in here in New England is soups. I am a fan of all types of soups, brothy ones, creamy ones, and even dessert soups. There is something about a hearty bowl of soup on a cold winter's day that not only warms up your belly, but also makes you feel good. For years, I have been making a homemade chicken soup recipe my father-in-law had taught me, while my father would delight everyone with his homemade beef stew and turkey soup recipes, of which I am still waiting to learn how to make. And, when I go out to dinner, I always ask about the seasonal soups and enjoy a cup before the meal.
I have always loved soups, and lived off of chicken noodle soup growing up (or so my mother says) :-) So, whenever I am browsing cookbooks online and in stores, my eyes always wander to the soup books. Over the years, I have come to love black bean soup. Unfortunately, I haven't been able to find a good recipe to make at home. That was until I tried the recipe in this cookbook. Boy, was it delicious, and oh so easy to make. This can be said for the other 299 soup recipes that fill this book. Other favorites I have made and my family enjoys include:
Aztec Chili Soup

Cheesy Zucchini, Sausage and Tomato Chowder

Broccoli and Cheddar Soup

Taco Soup

Winter Chicken Pot Pie Soup
So, if you are a fan of soups, especially during the cold winter months, why not pick up a copy of this cookbook, and give any of the 300 soup recipes a try. I know you will love it!
----
Tortillas to the Rescue
150 Quick-and-Easy Recipes You Stuff, Roll, Fold, Wrap and Stick in Your Mouth By Jessica Harlan
Publishing date: Aug 2012
Summary:
"Healthy and delicious recipes that take the simple tortilla and build gourmet dishes that are quick, cheap, and easy to make.
What can't the tortilla do? Tortillas to the Rescue Cookbook shows the millions of tortilla lovers how amazingly versatile the tortilla can be–with dynamic dishes that go way beyond the Mexican classics everyone knows. The book includes a wide array of creative, mouth-watering treats including Pulled Pork Wraps, Hearty Chicken Tortilla Soup, and Spicy Stir-fry Veggie Enchiladas as well as exotic dessert options like sugar-and-cinnamon baked tortilla chips atop fruit salad and pepper-infused tortilla-chocolate bark.
Second only to bread as America's most popular packaged food, tortillas are consumed by the billions from coast to coast. It is no wonder since tortilla-based meals like huevos rancheros, migas and cheesy quesadillas are so tasty and incredibly easy to make–perfect for kids and teens to rustle up on their own when Mom and Dad need an extra hand. Packed with step-by-step instructions, time-saving tips, and fun illustrations, Tortillas to the Rescue Cookbook demonstrates a beguiling number of ways transform a simple tortilla into a restaurant-worthy meal."
My Thoughts:
Who knew that a tortilla would be so versatile? I found this out when I was sent this cookbook to review. You can stuff it, wrap it, roll it, bake it and even fry it up to make a delicious creation. Gone are the days of associating the tortilla with Mexican dishes, once you try some of the easy to prepare recipes from this cookbook. Some of my family's favorites are:
Chocolate-Ricotta Cannoli

Spiced Sausage Lasagna

Crunchy Cilantro Slaw

Baked Port Tortilla Wontons

Spicy Chicken Casserole

Pizza-Dilla

Apple-Cinnamon Tortilla Pockets
The Apple-Cinnamon Tortilla Pockets are great for a breakfast dish or served up as snack. Whichever way you choose to a plain tortilla, you will be amazed at the final creation. :-)
----
Mommy Mixology
A Cocktail for Every Calamity
Publishing Date: Jun 2012
Summary:
"Flawless sitcom housewives like June Cleaver and Carol Brady made mothering look like constant joy, but in reality it is often hair-pulling, jaw-clenching, migraine-inducing anguish. For those moments, Mom needs a shoulder to cry on, a friend to vent to, or, even better, a stiff drink. Did Billy need stitches after a wrong-way slip down the slide? This book's first aid for Mom — an EmERgentini, the classic painkiller made with two olives on the end of a thermometer stir stick. Is Sally still insisting the toilet is a monster? Mommy Mixology's suggestion is the Cosmopotty, an escape to those Sex and the City days when Mom bought high heels instead of Pull-Ups. Has Mary learned her new favorite word – NO! – and repeated it 356 times today? Then say YES to the NO!jito, a can't-fail, can't-spill refreshing mint cocktail served in a sippy cup. Regardless of whether a mom stays home with the kids or picks them up for her "second shift," she will love having this cute and clever handbook close at hand — probably right on the coffee table (well, maybe the bar top, far above the reach of small hands)."
My Thoughts:
Here is another cookbook with cocktail recipes that have funny names. If you are a mom who looks forward to a good cocktail once in a while, and are not a bartender by trade, then you will love "Mommy Mixology." Many of the recipes include spirits that one would have at their bar and juices in the fridge. A couple of my favorite cocktails are the "Cheesy Sea Breezy, made with vodka, cranberry juice and grapefruit juice and the No! Jito made with white rum, club soda, mint leaves, lime and superfine sugar.
Who says a mom can't enjoy a good drink when the kids are finally in bed? And, now preparing a tasty drink is easy as 1-2-3. :-)
----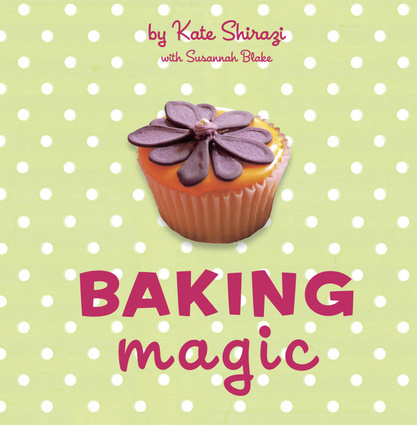 288 Pages, 9 x 8.5
Formats: Cloth
ISBN 9781862058897
Buy now: Cloth, $22.95 (US $22.95) (CA $25.95)
Summary:
"A perfect package of indulgence, this delicious installment in the Magic cooking series is filled with tasty treats to feed the whole family.
A perfect package of indulgence, this delicious fourth installment in the Magic cooking series is filled with tasty treats to feed the whole family Filled with irresistible home-baking recipes, this beautifully designed package is bursting with color and ideal for novice cooks. From cupcakes to muffins, breads to biscuits, and chocolate cakes to fruit tarts, these easy recipes are written in Kate Shirazi's characteristically fun and irreverent style and are perfect for fans of Chocolate Magic, Cookie Magic, or Muffin Magic. This endearing compendium of cakes, muffins, and cookies combines a no-nonsense approach with an insatiable appetite for all things baked, and will have you dashing to the kitchen to fill it with the heady aromas of home-baked goodies in no time."
My Thoughts:

This is a must have cookbook for anyone who loves to bake. I have found some amazing recipes in this cookbook since receiving a few weeks ago to review. From cupcakes and muffins, to breads and cookies, you are sure to find a mouth watering and oh so tasty treat to make and share with your family. And, with color photos that fill the pages of this cookbook, you will enjoy flipping through the pages from cover to cover, as you admire each.
Because I love to bake with my daughter, Savannah, we have tried almost all of the cupcake recipes in the book -- even the ones which fancy frosting decorations, that I would have otherwise not tried, if Savannah hadn't seen or asked for. But, I have to say that the decorating was a breeze. Who knew that I would be able to make a variety of butterfly themed decorations made from icing and cut outs? The best part of making these cupcakes was the time I spent doing so with my daughter, and then watching everyone enjoy what we had made together. :-) I could spend an hour listing out all the recipes we have tried, and the cookies we plan to make for Christmas, but I don't want to be mean and get you all hungry. Just know that this baking cookbook is great for all experience levels and will be treasured and enjoyed for years to come. I can see this as one of the cookbooks I will pass down to my daughters to enjoy and share with their children. It has only been a month since receiving, but we have already found a handful of sweet treats that have become family favorites. And, I can see more added to this list as time goes by. :-)
Hardcover: 320 pages
Publisher: Cumberland House (September 1, 2009)
Language: English
ISBN-10: 1581826761
ISBN-13: 978-1581826760
Product Dimensions: 9.2 x 7.4 x 0.9 inches
Summary:
"Features 47 lighthouses, dozens of stories, and more than 300 recipes from eight coastal regions of the United States.
You are invited on a culinary journey across America to visit some of our country's most beautiful and historic lighthouses. Lighthouse keepers and their families perfected the art of local dining by learning to gather food from their immediate areas.
The American Lighthouse Cookbook celebrates the local cuisines that have long been the staple of lighthouse keepers. Arranged geographically in eight regions of America, the lighthouses were chosen for their interesting backgrounds and stories. Following the story of each lighthouse is a menu for a modern-day lighthouse meal. Included are recipes mostly developed by Chef Ed Jackson, and others contributed by lighthouse societies, inns, and individuals. Each of the approximately 300 recipes captures the essence of the local foods available to lighthouse keepers from the 1700s through today.
Contains fascinating histories and delicious, seasonal recipes for:
Honeymoon Breakfast at the Fort Niagara Lighthouse in Youngstown, New York
Asian Pacific Dinner at the Lahaina Lighthouse in Maui, Hawaii
Cowboy Dinner at the Point Isabel Lighthouse in Port Isabel, Texas
Danish Breakfast at the Sand Hills Lighthouse Inn in Ahmeek, Michigan
...and much more!"
My Thoughts:
The one thing that I love about living in New England is being able to visit dozens of lighthouses during the warmer months. If you haven't seen a lighthouse up close, it really is a beautiful site. So, when I heard that their was a cookbook available that combines two of my loves, recipes and lighthouses, I had to pick up a copy and read.

The cover alone is one to be admired. And, with the cold weather that has now set in here in CT, it is nice to see the lighthouse and shoreline photos, as it reminds me that winter is only for a few short months, and then when spring comes and the flowers begin to peak out of the ground, we will be heading to RI and CT shorelines to hike and enjoy the amazing views. :-)

What I thought was so unique about this cookbook, is how it paired the stories of 47 lighthouses and shoreline stories all across America with some 300 amazing recipes. I have had this cookbook for a little over a month now, and have tried a dozen recipes, with more to come for Christmas. A few of my family and friends' favorites include:
Shrimp Etouffe

Sweet Potato Stew (both my daughters love this)

Spicy Snap Beans with Butter (was a hit at Thanksgiving)

Baked Halibut with tomatoes, capers and olive vine

Bill's Famous Potatoes

Upside-Down Apple Pandowdy

Lovers of cookbooks and/or lighthouses would love to add this to their collection. I learned so much historical information about lighthouses that I was unaware of, and also have a list of lighthouses I would love to visit on vacation in the coming years. And, you don't have to be a master chef to whip together the recipes in this cookbooks, as the instructions are easy to follow and worth the short time it takes to prepare each. I have not had a failed recipe yet from this cookbook, and many of the recipes have been made over and over again, and shared with those who loved them.

So, if you are looking for a cookbook that is unique, but boasts an amazing selection of recipes, then this is one worth checking out.
Disclosure: I was sent samples from the vendors in order to write up an honest review. The views above are mine and mine alone.