"Reignite the passion this holiday season with the heartwarming "coming-of-age" romance HOPE SPRINGS (Columbia Pictures, Mandate Pictures),arriving on
Blu-ray™ and DVD with UltraViolet™ December 4th from Sony Pictures Home Entertainment. The film stars three-time Academy Award® winner Meryl Streep (The Iron Lady, Best Actress, 2012;Sophie's
Choice,
Best Actress, 1983; Kramer vs. Kramer, Best Actress in a Supporting Role, 1980), Academy Award® winner Tommy Lee Jones (The Fugitive, Best Actor in a Supporting Role, 1993) and Golden Globe
winner Steve Carell ("The Office," Best Performance by an Actor, TV Comedy Series, 2006). It was directed by David Frankel (The Devil Wears Prada) and written by Vanessa Taylor (TV's "Game of Thrones").
The Blu-rayTM and DVD come with director commentary, alternate takes, a gag reel and the featurette "Inside the Perfect Marriage: Meryl Streep & Tommy Lee Jones," focusing on Arnold and Kay, the lead couple of the film. Exclusive to the Blu-ray are four additional featurettes. "An Intimate Look at Making Hope Springs" takes viewers behind the scenes of the film. "An Expert's Guide to Everlasting Passion"provides real marriage experts giving marital advice. "The Dr. Is In: Steve Carell on Dr. Feld" features Carell explaining the research he did to prepare for the film. "The Passionate Performer" provides an inside look at the acting career of Meryl Streep."
"Kay (Meryl Streep) and Arnold (Tommy Lee Jones) are a devoted couple, but decades of marriage have left Kay wanting to spice things up and reconnect with her husband. When she hears of a renowned couple's specialist (Steve Carell) in the small town of Great Hope Springs, Maine, she attempts to persuade her skeptical husband, a steadfast man of routine, to get on a plane for a week of marriage therapy. Just convincing
the stubborn Arnold to go on the retreat is hard enough - the real challenge for both of them comes as they shed their bedroom hang-ups and try to rekindle the spark that caused them to fall for each other in the first place.
HOPE SPRINGS
was directed by David Frankel from the screenplay by Vanessa Taylor. Steve Tisch, Jason Blumenthal, Nathan Kahane and Jessie Nelson served as executive producers, with Todd Black and Guymon Casady as producers."
DVD Special Features Include:
Director Commentary with David Frankel

Gag Reel

Exploring the Scene: Alternate Takes Gallery
Inside the Perfect Marriage: Meryl Streep & Tommy Lee Jones featurette
Blu-ray Exclusive Special Features Include:
4 Featurettes

An Intimate Look at Making Hope Springs
An Expert's Guide to Everlasting Passion
The Doctor Is In: Steve Carell on Dr. Feld
The Passionate Performer
HOPE SPRINGS
has a run time of approximately 100 minutes and is rated PG-13 for mature thematic content involving sexuality.
"Academy Award®" is the registered trademark and service mark of the Academy of Motion Picture Arts and Sciences.
"Golden Globe®" is the registered trademark of the HFPA.
My Thoughts:
When this movie was out in theaters, my mother took my dad to see it. She is a Meryl Streep fan (as am I), while my dad loves Tommy Lee Jones and Steve Carell. Even though he knew the movie was about marriage and intimacy issues, he wanted to make my mom happy by taking her to see this film, after her girlfriends saw it and raved about it. He thought that with Steve Carell and Tommy Lee Jones in it, it would be funny and not a sappy chick flick. By the end of the movie, both he and my agreed it was a good movie, and one worth picking up once it arrived on DVD.

Unfortunately, I wasn't able to see the movie when it was in theaters in August, but wanted to see it once it was available on DVD, based up on my parents reactions of it, as well as those of my girlfriends, who also got their husbands to see it. I was sent a screener copy days before Thanksgiving, which was perfect, as my parents were here and could watch it with my husband and I. I didn't tell my husband what the movie was about, as I wasn't sure if he would sit with us and watch it. :-) Once the movie started, however, he remembered seeing trailers for it a few months back, and was about to get up and do something else. But, he gave the movie a chance, and was glad he did.

Now, we are have been together for over 14 yrs. now, while my parents have been married for 40 yrs. -- but, everyone could agree on how you need to work at your marriage every day, and that at times, especially when you have young children, it is hard to turn on the intimacy switch. After raising my two brothers and I, my parents were lost once we all flew the coup. It wasn't until this time, that they found themselves in as similar situation as Kay and Arnold, played by Meryl Streep and Tommy Lee Jones. The only difference is that they didn't go away to couples therapy in Maine, and work out their problems with a sex therapist. But, in time, the spark returned and they are as happy as they were 40 years ago when they said "I Do."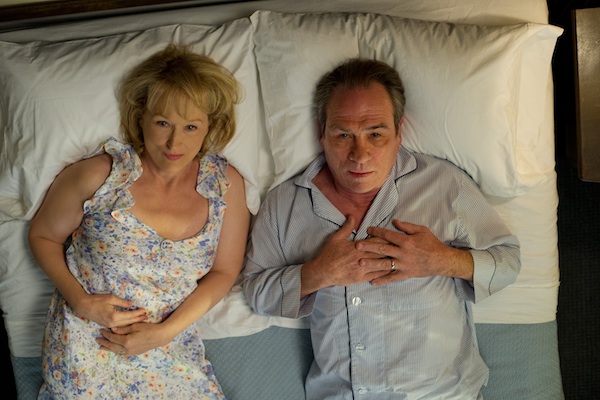 After my husband and I finished watching the movie, we agreed that we didn't want to be like Kay and Arnold. Even though they are fictitious characters, many couples can relate to them. In order to keep our marriage fresh and a priority, we are making a point to add date nights outside the house, as well as a weekend getaway without the kids every few months. Hopefully we will not have to travel to ME and meet with a sex therapist (which was played by Steve Carell in the film). :-)

This movie will have you laughing and covering your eyes during the sex scenes. What I loved most about the film and which was only achieved because of the brilliance of Tommy Lee Jones and Meryl Streep is that you the viewer felt as awkward as Kay and Arnold did as they navigated through the sex scenes and working out the intimacy issues. On a few occasions, I felt like I was a fly on the wall in the therapist's office, eavesdropping on their personal conversation. Married couples of all ages will relate to this film, and will walk away with a greater appreciation for their partner and with the desire to work towards keeping the flame burning. :-)
Disclosure: I was sent a copy of this DVD from the vendor in order to write up an honest review. The views above are mine and mine alone.