When we moved to CT, I was excited to see a Kmart in the shopping plaza down the street from us, as I love shopping there. Then, within a year of moving here, it turned into a Sears Essentials, until recently switching back to a Kmart (which I prefer). But, through all the name changes, one thing stayed constant, their annual Christmas Shoppe. Like clockwork, year after year, as Halloween was winding down, they would begin putting up the holiday trees and lights, decorations and display their large selection of ornaments, etc. I would love strolling through the Kmart Christmas Shoppe and get ideas on new ways to decorate the Christmas tree and the outside of the house. When I got married, I began an ornament collection, where I would pick up a special ornament each year to not only display on the tree, but pack away as a treasured keepsake, and pull out and use year after year. Over the years, my collection has grown, as has our family. Now, I am not only picking up a holiday ornament to commemorate another year of married bliss, but also pick one up for each new Christmas and year of life.
My daughters have been fighting a nasty head cold for the past few weeks, so I have been waiting for them to feel better, and be able to take them to walk through the Kmart Christmas Shoppe. So, last weekend, when the girls looked and felt better, my husband and I too them shopping for their ornaments.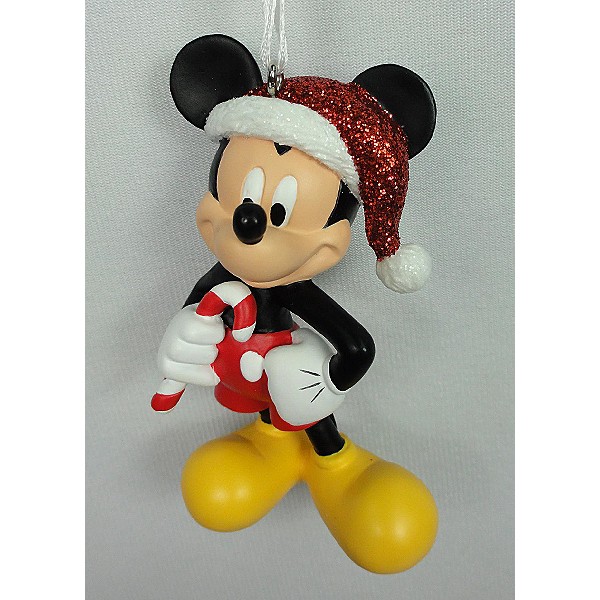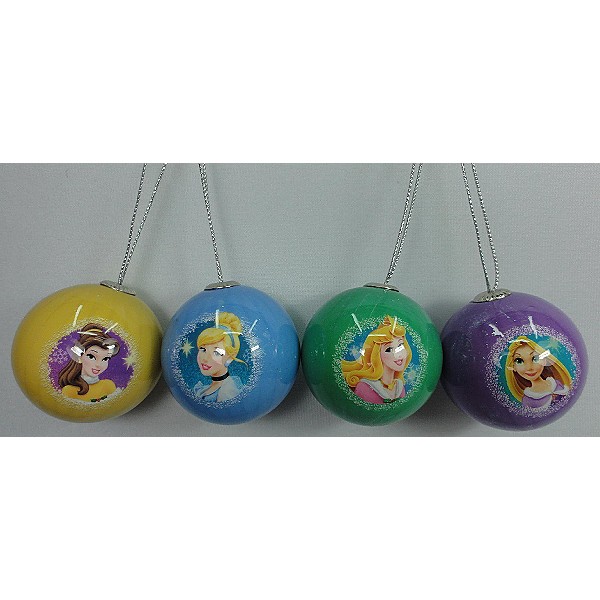 Savannah ended up picking up a Mickey Mouse ornament, while Arabella opted for a set of 4 mini decoupage ball Disney princess ornaments. Now, if I was to buy these ornaments at a high end retailer, I would be looking at paying $10+ per ornament. Instead, I only spent $5.99 for each ornament. My husband picked up our annual ornament, but wants to wait and surprise me with it, when we have the tree up. I wonder what he chose, as all the ornaments there were so beautiful and would great on our tree? :-) I guess I will have to put the tree up soon, if I want to find out. After walking through the Kmart Christmas Shoppe, I am excited about the upcoming holidays, and can't wait to find time to start putting up the tree and decorations to admire. There is something about a beautifully decorated Christmas tree lit up in the window at night time, that is so peaceful and a joy to look at.
So, if you are lucky enough to have a Kmart of Sears near you, why not pay a visit this weekend and walk through their Christmas Shoppe? If you are not in the holiday spirit yet, you will be after walking through -- I guarantee it! :-) You can also visit the
Kmart Online Christmas Shop
for inspiration and to order items online.
Don't forget to also enter the
"Decorate it Forward Sweeps"
going on now, for a chance to win a shopping spree in either NY or Los Angeles, and meet
Sandra Lee
and
Jaclyn Smith
who will take you on your shopping spree of a lifetime. So, choose you would want to shop with, or enter both "Decorate it Forward Sweeps" today. Act fast, as these sweepstakes end in 12 days! And, when you are done entering these amazing sweepstakes, why not try your luck at others available through the
Shop Your Ways Rewards
site - where you can enter sweepstakes, get great deals and learn how you can earn up to 5% in points when you shop at Sears and Kmart, to use towards future purchases.
---GIVEAWAY---
One lucky reader will win a $15 Kmart gift card, that they can use on picking up ornaments and other decorations from the Christmas Shoppe. Or, use it to start your holiday shopping early. :-) To enter this giveaway, please complete the entries on the Rafflecopter form below. Good luck!
a Rafflecopter giveaway
About Kmart's Decorate it Forward Offering:
"Decorate it Forward this holiday season with Kmart's affordable and stylish decorating and entertaining merchandise. Kmart is the perfect resource to help spread the holiday cheer. With a wide selection of ornaments, lights, trees, outdoor décor and special collections from Sandra Lee and Jaclyn Smith, Kmart provides you with great gift options so that you can share your holiday joy with others this season!
Check out the Virtual Ornament Creator and build your own Kmart Christmas virtual ornament card and Decorate it Forward to friends and family.
Kmart has partnered with St. Jude Hospital to offer you a special holiday decoration that will be sure to bring smiles to your loved ones. When you buy the exclusive St. Jude Holiday Bear Collectable Ornament for $5 in store or online, $1 will go back to support St. Jude's mission.
See for yourself why Kmart is your one stop shop for all things holiday."
Decorate it Forward this Holiday Season with Kmart!
Visit these great Kmart holiday resources:
Disclosure: I was sent a gift card from Smiley360 in order to participate in their "Decorate it Forward" campaign. The views above are mine and mine alone.