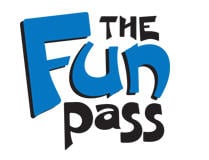 The Children's Coupon Book with the Best Value in New England
For just $30 you will receive incredible discounts at amusement parks, ski mountains, zoos, museums, and more. You will be getting discounts worth over $1,500 at over 100 New England family attractions!
In most cases, the discount coupon offers a child, 12 and under, a free or discounted admission when accompanied by a paying adult. Offers vary by attraction.

View a list of all the 2012 participating attractions and the discounts they offer

here.
Important: When using your Fun Pass, take the entire book with you on each outing. You must tear the coupon from the book at the attraction in order to receive the discount.
Read the most frequently asked questions about the Fun Pass here.
I have been using this coupon book for over a month now, and have calculated that I have saved over $300 in admission costs to popular New England attractions. During our recent trip to NH to celebrate our daughter's 2nd birthday, we saw the most savings, all while enjoying time together as a family. We really did create lasting memories, all while saving $$$.
In the past, I would purchase other coupon books, but wouldn't see much savings, as either stores or attractions they included were not in my area -- even though the books were printed my state. Disappointed with having to through out these coupon books at the end of the year, with 3/4 of the book intact, I was not sure that The Fun Pass would be any different. But, I was wrong. This coupon book contains free and discounted admission to popular attractions, that can enjoyed by children of all ages and their parents.
Having never heard about this coupon book before, I was not surprised to have other tourists ask me what I was using, after seeing I saved substantially on admission to top attractions. When I showed the book, and they saw how jam packed it was with popular attractions, they were eager to get their hands on The Fun Pass. And, at only $30 it is well worth the investment, as it usually will pay for itself after 1-2 visits to family favorite New England attractions.
Even though summer is almost over, doesn't mean you can't save on some last minute family fun. Coupons in The Fun Pass book are valid through the entire 2012 season at certain amusements, or through the calendar year. So, as you can see, you can enjoy family fun even after the summer season comes to a close. I can't wait to use a few discounted admissions to NH attractions in the fall, when we will be visiting with family, and taking in the beautiful foliage.
About Breathe New Hampshire:

When you purchase a Fun Pass you are also contributing to the critical work of Breathe New Hampshire.

Breathe New Hampshire (formerly American Lung Association of New Hampshire) is the New Hampshire's oldest nonprofit voluntary health agency. Today, as Breathe New Hampshire, the organization's mission encompasses the challenges associated with asthma management; keeping both indoor and outdoor air clean; nicotine addiction; COPD (Chronic Obstructive Pulmonary Disease); and other matters affecting healthy breathing.
Disclosure: I was sent a sample from the vendor in order to write up an honest review. The views above are mine and mine alone.