It is only July 10th and Savannah is already itching to have her birthday party on July 22nd. You wouldn't think that an almost 2 year old would know or care about birthdays, but she does. We finally finished picking up the birthday decorations and goodie bag treats for her Toy Story 3 themed party over the weekend. The only thing that was left was to decide on a birthday dress. And, that too has finally been decided, as Savannah is loving her new handmade flower power skirt by auntie robin skirt, that was sent to her for review and inclusion in the birthday guide I put together for her special day.
Here are some photos of Savannah posing in her flower power skirt. As you can see she still has room to grow into the skirt. But, thankfully, for the elastic waistband, it stay on her. :-)
Since the moment we received it in the mail, and she tried it on, she hasn't wanted to take it off. And, when she wakes in the morning, and I ask her to choose an outfit, if it is not in the laundry (which usually isn't as I spent my nights washing the girls' clothes and bibs), then she grabs this with a shirt (usually not matching). When I ask her to choose another outfit as she had already worn it the day before, she insists on wearing the "pretty skirt." Who am I to say no, as I look into her big, brown eyes. :-)
I fell in love with these handmade skirts, which are made from cute and unique fabrics, when I stumbled upon them recently. What little girl wouldn't want a pretty skirt that they can twirl around in? Here are just a few more the styles Robin is offering through her
online Etsy shop
.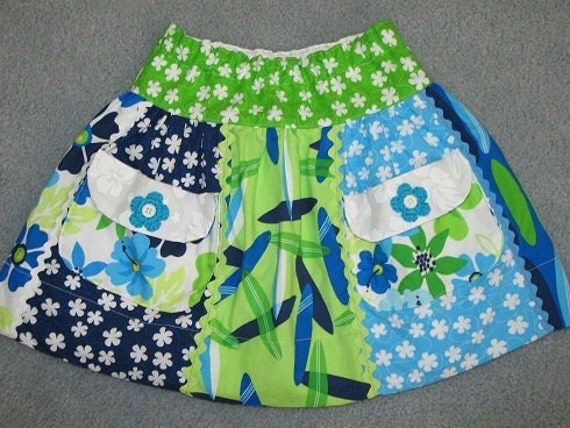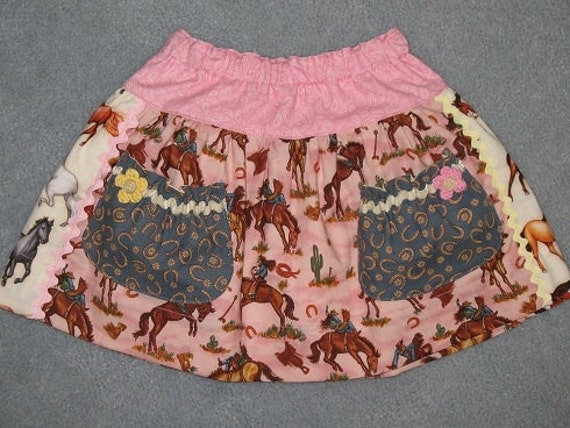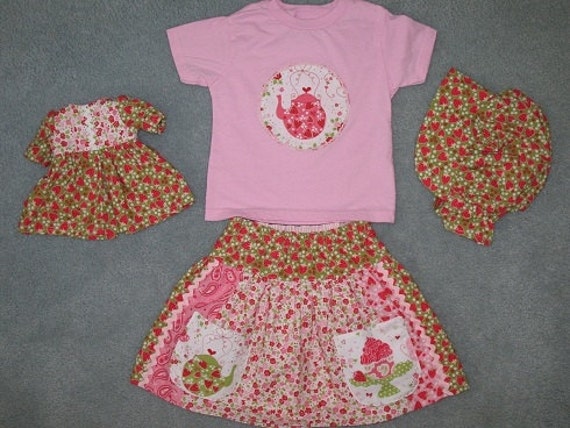 Most skirts average $25, which in my mind is a steal for the amount of time Robin spends in making it by hand. Just looking at the skirt I was sent for Savannah, I can see the intricate details that went into, including the addition of a yellow bumble bee applique on the pocket, and the trim worked into the skirt. It really a sight to see.
As I am looking at it now (before I throw it in the wash yet again), I can see why Savannah loves it so much. It is such a beautiful skirt. Savannah loves swaying side to side when she wears it, watching it move with her. Her second birthday will be memorable, thanks in part to this dress, which I know will be all the talk, at her party. When I have taken Savannah out in it recently, people stop to compliment her on it, and then ask where I bought it, as they would like to get one for their daughter or granddaughter. They are amazed when I tell them that it was handmade.
Savannah and I would like to thank Robin for creating this skirt, which has become a staple in Savannah's wardrobe, and for helping to make her upcoming special day, even more special. :-)
--BUY NOW--
Click
here
to visit Robin's online Etsy store, auntie robin, to view her current inventory of handmade skirts and more. Why not surprise that special little girl in your life with a handmade skirt from Robin? And, just for Inspired by Savannah readers, Robin had kindly offered to give readers
20% off
their total purchases. To take advantage of this special offer, make sure you use coupon code "BIRTHDAY" at checkout. Act fast as this coupon code is only valid for a limited time.
More about auntie robin:
I'm from California, but now live on the east coast. Sewing has always been a part of my life. With five daughters, my mother sewed countless dresses for us and taught each of us to sew. I started with doll clothes, then my own clothes, and later on learned to quilt. Quilting has definitely influenced my sewing as each little skirt is made up of several coordinating fabrics. This is fun for both me as I sew the skirt, and the little girl who wears it! Each item is unique. The skirts are all fully lined with finished seams and every skirt has pockets for a little girl's treasures. They are pretty and fun, but practical, too. A little girl can wear one of these skirts to school, a party, or outside on the playground. They are all 100% cotton and can be thrown in the washer and dryer.
I love making little baby quilts, too. The baby quilts are hand-quilted and are backed with soft flannel to make them extra cuddly. A favorite pastime of mine is hand quilting while watching an old movie on TV. I have lots of nieces and nephews and each new baby has to get a special quilt.
Like most people who sew or craft, I love giving to others. One of my favorite charities is Crystal Peaks Youth Ranch in Bend, Oregon. The wonderful folks there rescue horses, mentor children, and give families hope for the future.
Disclosure: I was sent a sample from the vendor in order to write up an honest review. The views above are mine and mine alone.