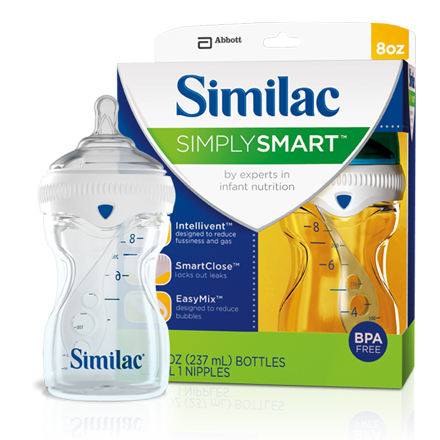 Similac SimplySmart™, is a bottle that combines 85 years of the Similac brand's infant feeding expertise with feedback from more than 2,500 moms. This combined expertise has resulted in smart features that address challenges moms face during feedings, including leaks, bubbles and fussiness and gas:
·
Nipple:
The naturally shaped nipple is designed to be more like mom for feeding between breast and bottle.
·
Intellivent™:
This exclusive venting system is designed to minimize baby's air intake for less fussiness and gas.
·
SmartClose™:
Found only in Similac SimplySmart, the SmartClose reveals a blue shield when the top is secured to prevent leaks and assure the bottle is closed.
·
EasyMix™:
This innovative mixing device is only found in Similac SimplySmart and is designed to help reduce bubbles and clumps.
·
Similac On-the-Go™ Powder Cap:
A unique cap keeps powder and bottle together and holds enough powder formula for up to one 8-ounce bottle to help busy moms on the go. Cap sold separately.
Similac SimplySmart is available in 4- and 8-ounce sizes, each with a wide opening and a comfortable grip, has a variety of nipple flow rates and is BPA free.
Arabella, like her older sister Savannah, has had issues with colic since she was born. We have found that bottle feeding and taking in too much air causes her colicky behavior to get worse. So, I am continually searching for new bottles, which claim to help with reducing air intake and prevent leaks. I find that I stumble upon a bottle and think it works, only to be disappointed a few weeks later, when Arabella's fussiness and gas symptoms come back. The bottle we have been recently most recently has begun leaking, due to the rubber base breaking down from daily unscrewing, washing and screwing the bottle pieces back together. Don't you hate it when you have a fussy, hungry baby demanding food, only to begin feeding them and have the bottle leak all over the place. When this happens, not only does Arabella get upset not being able to feed, but she takes in more air, trying to take in whatever liquid she can. This results is a long, up-all-night, battle due to colic and unnecessary feeding issues.
So, when it came to reviewing this bottle, I wasn't getting my hopes up, even though I was on the search for a new bottle for formula feeding with her. The first time that I liked about the
Similac SimplySmart™ bottle was the added
Similac On-the-Go™ Powder Cap,
which holds enough formula powder for one 8-ounce feeding, which she is up up to now. Note, that this cap is sold separately from the bottle, but is a must-have for powder formula users. I have been using this bottle for the past week, and have not had any issues with leakage, which is a plus, after the past month of leaky prepared bottles in the refrigerator, and when feeding Arabella. As for air flow and bubbles, I have noticed Arabella is a happy baby after feeding and has less issues with gas and fussiness. There have been a few occasions, where she has had gas, but I don't think it was from bottle feeding, as we have begun to introduce baby food into her diet as well.
As for cleaning and reassembling this bottle, it has been a breeze, and is quick and easy. Each of the features of this bottle really make it a stand out bottle, but I have to say I am loving the
SmartClose™ and
EasyMix™
features the most, as it makes preparing a bottle of powdered formula so much easier. I don't have to worry about clumping or liquid spitting out when I shake the bottle to mix the powder and water. Since receiving this bottle for review, I have since ordered more online, and have tossed the old bottles we had been using. And, when I talk with expectant or other moms dealing with fussy babies due to gas, I suggest the
Similac SimplySmart™ bottle
to them, and share how it has helped making bottle feeding so much easier and enjoyable for both Arabella and I.
You can purchase the
Similac SimplySmart™ bottle
online at Amazon.com, Diapers.com and Abbottstore.com, as well as at major retailers nationwide, like WalMart, Target and Babies R Us.
Disclosure: I received a free Similac SimplySmart bottle compliments of the Similac brand, and as part of the MomSelect program. No monetary exchange took place.