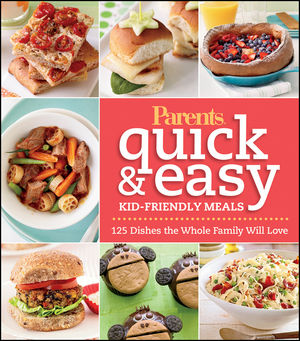 US $19.99

Add to Cart
Summary:
Making healthy foods that kids will love eating is a challenge for many busy parents. Parents magazine has been helping parents make smart decisions about their children's health and well-being for more than 85 years, and now, with their new book, Parents Quick & Easy Kid-Friendly Meals (Wiley Paperback; April 16, 2012; $19.99) the editors offer 125 simple, nutritious recipes for every meal of the day, as well as snacks, drinks and treats.
Whether you are trying to figure out how to feed a picky eater or you are looking to add more fruits and vegetables to your family's meals, Parents Quick & Easy Kid-Friendly Meals offers surprising solutions, healthy tips and nutritious recipes. With expert advice from Parents editors by your side, preparing meals for your entire family will be easy and delicious, Parents Quick & Easy Kid-Friendly Meals includes:
125 delicious, nutritious recipes that kids will love, accompanied by mouthwatering full-color photographs

Fun ways to introduce your kids to cooking and kitchen prep

Tasty recipes with names kids will love like German Pancake with Berries for breakfast, Greek Kabob Salad for lunch, Nutty Noodles for dinner and Pear-Bear Muffins for snack time and much more!
Parents has the advice and the recipes you need to make mealtime fuss-free and satisfying.
My Thoughts:
I was eagerly awaiting the release of this cookbook, in hopes that it would offer up some tasty, yet easy to prepare recipes, that Savannah would enjoy. Now that she has begun eating table foods, we are trying to offer her an array of foods. But, like her Mommy was a child, she, too is a picky eater. She could live off of tomatoes, mac and cheese, raviolis and pickles if we let her. I have purchased other kid-friendly cookbooks, but after trying out different recipes in each, couldn't find dishes Savannah would like.
As a relatively new parent, seeing that Savannah was born in 2010 and Arabella in 2011, we are learning as we go along, and introducing foods to a toddler is new to us. So, after reading various magazines and books, I kept reading the same thing -- "Serve your child the same thing you are eating." When I received my copy of Parents Magazine Quick and Easy Kid-Friendly Meals: 100+ Recipes Your Whole Family Will Love, I couldn't wait to try out some of the recipes, as the pictures on the front cover looked so tasty.
I have spent the past few weeks trying out over a dozen recipes in this new cookbook, and have to say 80% of them are winners. Not only does Savannah enjoy them and ask for seconds, but my husband and I are loving these easy to prepare meals. Our favorites include: Junior Veggie Burgers, Healthy Fried Rice, Chuck Wagon Pot Roast and Veggies, and the Pear-Bear Muffins, which have become a staple every weekend in our house. I also love the finger food and quick and easy snack recipes found in this cookbook, and can whip them up in a matter of minutes for Savannah to enjoy.
After having so much success with the recipes in this book, I can't help but rave about it with other moms I talk with at our weekly mommy and me meetups. So many moms are in the same boat, dealing with picky eaters. This past weekend, I brought the book to the library meetup and passed it around for all the moms to see. A handful took out their notepads to jot down the book information, so that they could buy it online whey they got home, while the others asked to borrow it. Based on this, I know that the new Parents Magazine Quick and Easy Kid-Friendly Meals: 100+ Recipes Your Whole Family Will Love will become a best-selling amongst parents.
Disclosure: I was sent a copy of this book by the publisher in order to write up an honest review. The views above are mine and mine alone.