Congrats to Donna!!!!

With the holidays around the corner, it's easy to get overwhelmed by the to-do lists, wish lists to Santa and the hustle and bustle of the season. But when it all comes down to it, it's the perfectly imperfect moments, the memories and time spent with loved ones that really matters most. This holiday season, Hallmark wants to help families connect and enhance their time together by providing tips to enjoy holiday traditions.
1. Make Your Tree a Fun Place to Be
· Transform your Christmas tree from a holiday decoration to a "family tree." With more than 300 new
Hallmark Keepsake Ornaments
to choose from, you can tell your family's story on every branch.
· Reminisce over old times, celebrate "firsts," and capture your kids' passions (even if it will embarrass them 20 years from now!)
· Choose from Baby's First Christmas (Photo Holder); Dumbo Takes to the Sky (Disney); Dreams Do Come True; Sweetheart Minnie Mouse or Music Box Teaching Clock. I've attached photos for your review!
2. Bring Holiday Tales to Life
· Reading holiday classics as a family is a beloved tradition, and now, families can add a new twist — bringing story time to life with J
ingle the Husky Pup Interactive Storybook and Story Buddy
. Jingle, a plush husky, responds with a bark, whimper or song when key phrases are read from his corresponding book.
3. Spread Holiday Cheer (Without It Taking All Year!)
· Hallmark wants to make it easier and faster for you to spread holiday cheer to loved ones. At Hallmark.com, you can create and send
personalized holiday paper cards
from the comfort of your own home (you can make the cards in your pajamas if you want)!
· Simply pick your favorite holiday card design, customize it with a photo and a personal message, upload your address book, and Hallmark will do the rest! From addressing and stamping to mailing your season's greetings, Hallmark has it all under control.
--------------
Now that I am parent to Savannah (16 1/2 months) and Arabella (3 1/2 weeks), my husband and I are looking for great ways to enjoy the holidays with them, as well as start new family traditions that will make for great memories. So, when Hallmark sent me their Jingle all the Way Interactive Storybook and Story Buddy to share with my daughters, I couldn't wait to snuggle up on the coach and share this amazing, interactive plush and storybook with Savannah after we put the Christmas tree up the other night.
This year was the start of many memorable memories, as our family is now complete with 2 beautiful daughters. And, this year, Savannah is beginning to learn about the holidays and even helped put some ornaments on the tree. So, when we sat down with Jingle the Husky and his matching storybook, I couldn't wait to see my daughter's reaction when he began reacting to the story I was reading. The look and smile on Savannah's face was priceless. Her entire face lit up and she began to smile ear to ear and laugh. She even tried talking back to Jingle to see if he would respond to her.
Since we read this book for the first time over the weekend, I have made a point to leave Jingle in the living room, and every time my daughter and I walk buy him, I recite a line from the book which Jingle responds to. And, as we walk by, Jingle talks to us or barks. I love seeing my daughter's reaction as she wonders how and why he is talking to us.
We just love these Interactive Storybooks and Story Buddies from Hallmark. Since receiving this story buddy, I have gone to the local Hallmark store and picked up Cooper the Bear to give Savannah as a gift this season. I can't wait to pick up more interactive storybooks and buddies in this series. And, now with FREE apps that read the book to your child, I can sit Savannah down with her Story Buddy and have the story read to her, while Jingle interacts. This is a great help when I am changing her little sister, or getting dinner ready.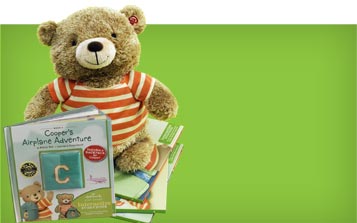 So, if you are looking for a new tradition that will add great memories this holiday season, why not pick up Interactive Storybooks and Story Buddies from Hallmark to share with you little ones. It is a great way to spend quality time together.
And, while you are at the Hallmark store, why not start another tradition – buying a new ornament for the Christmas tree each year. My husband and I began doing this when we got our first place together and have been carrying on this tradition for the 13 years. Now, we have collection of beautiful ornaments, each with their own story behind it. This tradition has provided us with so many wonderful memories, and we are excited to begin a new ornament collection with our girls.
Our first ornament for the collection is the
Music Box Teaching Clock
from Hallmark. Next year, we will let Savannah pick out an ornament for the collection, and then switch up each year between her and her sister choosing ornaments. This is going to be so much fun, and a great tradition to look forward to.
---BUY NOW---
Have you ordered your personalized greeting cards yet? If not, Hallmark has a great offer to help with your greeting card needs. When you shop online at Hallmark.com, you can take 20% off personalized greetings (minimum purchase $20). At checkout, please use discount code, "SOCIAL20" to take advantage of this special offer. Act now, this code expires on 1/1/2012.
Hallmark wants to help one lucky reader start new traditions and create lasting memories with their family by offering a Hallmark Keepsake Ornament and
Jingle the Husky Pup
. To enter, please leave a comment below about a family tradition you have or want to start this season. Make sure to leave your email address with your comment, so that I can contact you if you win. Good luck!
I will pick a winner with Random.org and they will have 24 hrs. to respond to my email, in order to claim prize. If I don't hear back within 24 hrs., I will have to choose another winner. Contest ends on Dec. 14th.
Disclosure: I was sent samples from Hallmark in order to write up an honest review. The views above are mine and mine alone.